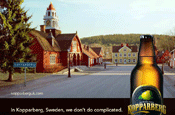 A poster campaign will launch in Glasgow and Manchester, while an online element will include a partnership with music magazine NME.
Davin Nugent, managing director of Kopparberg's UK distributor Cider of Sweden, said: "We've had astonishing brand success with product trial and word-of-mouth but felt that we needed to create an advertising campaign to take the brand to the next level.
The campaign was shot by Kevin Griffin, who has produced campaigns for Guinness and Heineken.
Rothko creative director Jude Healy said: "Kopparberg Cider is inextricably linked to the town of Kopparberg and we have tried to instill the advertising with this sense of place and the outlook and mindset of the people who live in this place."
The company is also planning an experiential campaign this summer at high profile music festivals including Connect in Scotland and Camp Bestival in Dorset.