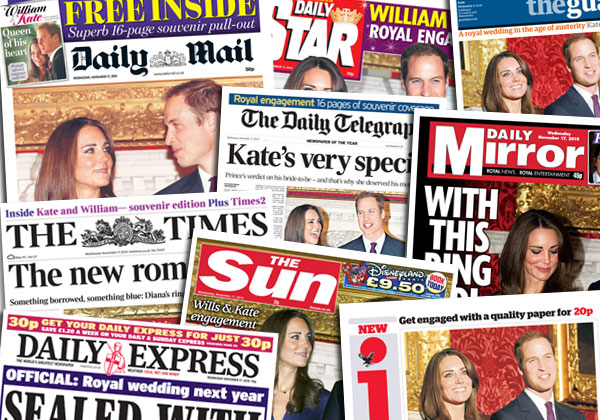 While the inclement weather in late November is likely to have hit newspaper-buying habits, executives will be alarmed that a major event such as the impending nuptials of Prince William, coupled with major news stories including Ireland's financial crisis, resulted in such a poor November.
According to November's Audit Bureau of Circulations (ABCs), the biggest losers during the month were the red-tops, led by Richard Desmond's Daily Star, which was down 4.64% on October to 756,686 copies. This could be partly explained by Desmond's decision to stop price-promoting the title.
The Daily Mirror fell 3.8% to 1,177,629 copies, while The Sun nudged down just 0.21% to 2,898,113 copies.
The Daily Mail, like a number of its rivals, attempted to cash in on public fervour around the forthcoming wedding, by offering its readers a free Royal Doulton plate to mark the engagement. The Mail was down 1.34% to 2,100,855 copies, while mid-market rival The Daily Express fell 0.47% to 639,690.
The Independent's decision not to splash on Prince William's proposal – it opted for Ireland's banking crisis – appeared to have little impact. The newspaper registered a six-month low circulation of 177,636 (down 2.62% on the month).
Similarly, The Daily Telegraph recorded a circulation of 652,762 (down 0.34%), while The Guardian was down 2.11% to 270,582.
The Times, meanwhile, fell 2.67% to 466,311, and has now lost circulation in every consecutive month since News International began its much-heralded to change for online access to the Times website.
In November, every national newspaper was down year on year, with The Times falling a precipitous 17.21% from November 2009.
The Pearson-owned Financial Times countered the general run of the market – its circulation of 44,699 was its second highest since June.
Click here to view the full newspaper ABC figures for November 2010.