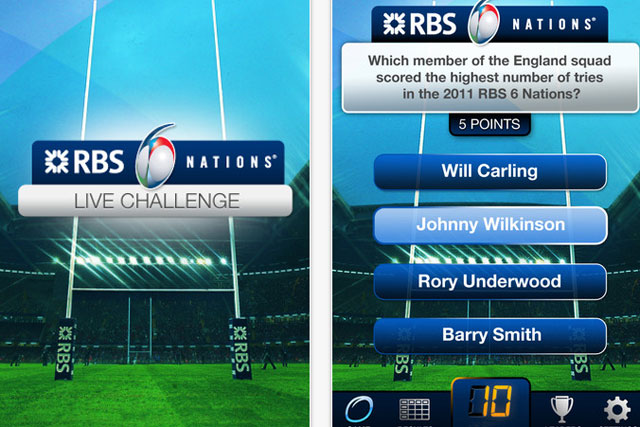 Conceived by Synergy, Engine's sponsorship agency, and delivered by sibling agency Jam, the app promises to "revolutionise and enhance the live match experience".
Throughout the match, the app challenges fans to predict the result of penalties, conversions, five-metre scrums and line-outs, take part in opinion polls, and answer RBS 6 Nations rugby quiz questions.
It hopes to capitalise on the rise of dual screening and to further enhance the viewing experience of all rugby fans watching the RBS 6 Nations on TV.
The app also leverages the capabilities of Facebook Connect to enable friends and fans to interact with one another during the game, regardless of location.
Tim Crow, chief executive of Synergy, said: "Integrating social engagement with scale and credibility is fundamental to the success of sponsorship in the social media era and this is exactly what the RBS 6 Nations Live Challenge aims to deliver.
"It's also testament to the unique fusion of capabilities that, together, Synergy and Jam can deliver for sponsors."
The free app can is available on iPad, iPhone, Android, as well as Facebook and can be downloaded from www.rbs6nationslivechallenge.com from today (3 February).
All rugby fans can play along at any point during the RBS 6 Nations championship, starting with the first matches tomorrow.
The RBS 6 Nations Live Challenge app follows the success of Heineken's Star Player football created by AKQA last year for Uefa's Champion League finals.
RBS 6 Nations Fixtures 2012

Date
KO (GMT)
Home
Score
Away
Venue
Sat 4 Feb

14:30
France
v

Italy
Stade de France
Sat 4 Feb
17:00
Scotland
v

England
Murrayfield
Sun 5 Feb
15:00
Ireland
v
Wales
Aviva Stadium
Sat 11 Feb
16:00
Italy
v
England
Stadio Olimpico
Sat 11 Feb
20:00
France
v
Ireland
Stade de France
Sun 12 Feb
15:00
Wales
v
Scotland
Millennium Stadium
Sat 25 Feb
13:30
Ireland
v
Italy
Aviva Stadium
Sat 25 Feb

16:00
England
v
Wales
Twickenham
Sun 26 Feb

15:00
Scotland
v
France
Murrayfield
Sat 10 Mar

14:30
Wales
v
Italy
Millennium Stadium
Sat 10 Mar

17:00
Ireland
v
Scotland
Aviva Stadium
Sun 11 Mar

15:00
France
v
England
Stade de France
Sat 17 Mar

12:30
Italy
v
Scotland
Stadio Olimpico
Sat 17 Mar

14:45
Wales
v
France
Millennium Stadium
Sat 17 Mar

17:00
England
v
Ireland
Twickenham
Follow Arif Durrani on Twitter @DurraniMix