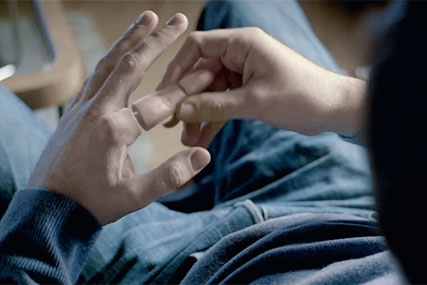 The motivation for advertising campaigns varies according to the priorities of the client.
In some cases, advertising exists to raise brand awareness, while creating a brand identity is more important to other companies.
The approach taken in the new ad for fast-food brand Rustlers falls very firmly into the latter camp.
The Rustlers brand has matured over time and its advertising campaigns have to reflect its evolution.
The brand's 2005 campaign featured young males "tuning their microwaves", in a parody of some of its consumers' favourite pastime, whereas its new ad is targeted at a slightly older demographic.
In the latest ad, one of two men sitting on the sofa unscrews one of his fingers, which then makes its way to the kitchen. The finger stops en route to ogle a woman in the bath, before continuing to the kitchen to cook a Rustlers burger in the microwave.
When the finger brings the burger back to the man on the sofa, the narrator says the tagline: "Rustlers: one finger food."
Rustlers has been firmly positioned as a product aimed at men since the brand launched, therefore the BrandIndex data in the accompanying chart counts male respondents only.
The chart shows that the buzz rating for the brand actually dropped slightly after the ad first aired on 22 April, down from 0 on 22 April to a low of -2 by 29 April.
Interestingly, the amount of respondents who had heard about the brand increased - implying there was a greater increase in negative respondents than positive respondents.
Despite this, the brand will be pleased to know that the general impression scores of male respondents for Rustlers improved as a result of the campaign.
When the campaign first aired, the brand had a score of -7, which increased to -2 following the ad.
The data from the chart suggests an intriguing finding: that the campaign did not necessarily appeal to the target audience.
However, the increase in general impression scores for the brand implies that the target consumers feel more positive about the brand as a result of the ad, even if they do not particularly like the ad itself.
Richard Wood, www.brandindex.co.uk
METHODOLOGY: YouGov interviews 2,000 people each weekday to form its BrandIndex, a daily measure of public perception of more than 1,100 consumer brands across 32 sectors. It is measured on a seven-point profile:
1. Buzz
2. General impression
3. Quality
4. Value
5. Satisfaction
6. Recommend
7. Corporate reputation.
In addition, we supply an index score.