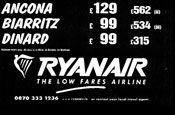 In what is now an established pattern for Ryanair marketing campaigns, the airline had, on this occasion, been rebuked following a series of upheld complaints about an ad featuring a school girl dressed in a sexually provocative way.
The ASA claims that advertisers who persistently breach its non-broadcast advertising codes are referred to the OFT, but only after a 'longlist' of other sanctions have been considered.
A spokesman for the ASA said a referral would be made only under the Control of Misleading Advertisements Regulations, while offensive ads are governed by rules on breaches of taste and decency.
'Only when other sanctions have been exhausted, such as refusing an advertiser media space, invoking compulsory pre-vetting, or taking away trading privileges, do we consider a referral,' he added. 'In most cases, sanctions are effective in bringing advertisers into line.'
An advertiser that uses an ASA-upheld regulation for PR achieves only one thing - bad publicity that damages its brand.'
Ryanair's latest breach was of the taste and decency rules, and the sanction the ASA imposed was to issue an alert to newspapers instructing them not to run the ad.
Other brands that have made similar transgressions of taste - such as Club 18-30 with its 'Beaver Las Vegas' campaign, and Ann Summers, which used the strapline 'Ride a cock hoarse' to promote the opening of a store in Banbury - have faced similar measures.
The ASA maintains that the lack of referrals to the OFT underlines how 'compliant' advertisers' are and the strength of the deterrent that a referral represents.
However, it is difficult not to see the inertia as evidence of the body's lack of teeth - the last referral occurred in 2004 when the Daily Sport was referred for running a front-page 'flash' suggesting that the newspaper cost 10p when, in fact, this referred to a magazine inside it.