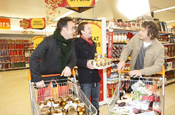 The TV ad, created by Abbott Mead Vickers BBDO, breaks on Wednesday 12 November, the same day as the Marks & Spencer Christmas ad campaign.
The commercial opens with Ant and Dec shopping for their Christmas party and loading their trolley with nothing but pickled onions and pineapple chunks. They accidentally crash trolleys with Jamie Oliver, who offers to help them shop. They head back to Ant and Dec's house where Jamie shows them how to cook some quick, festive snacks.
This will be the first ad the pair has appeared in since 2001, when starred in Woolworth's 'You might forget what you came in for' Christmas campaign alongside Des Lynam.
At this stage, there are no plans for Ant and Dec to work with Sainsbury's beyond this campaign.
A Sainsbury's spokeswoman said: 'We went for this theme because everyone's feeling the pinch and, more so than ever, really do want a stress-free Christmas full of fun and lightness.'
However she stressed this was not a move away from its value message, but a continuation of its communications strategy over the last year. The Christmas ads will run alongside several 'deals' executions, which together aim to promote a brand image of value, ideas, quality and fun.
Sainsbury's 2007 'Christmas ideas production line' ad also starred Jamie Oliver, who has been the face of the supermarket's advertising since 2000.
Last month Sainsbury's chief executive Justin King said quarterly, like-for-like sales, excluding fuel sales, were up 4.3% and that it was 'stealing very successfully' from its more upmarket rivals.