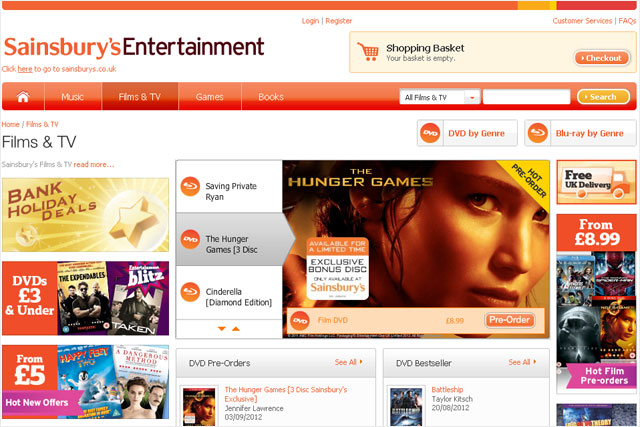 Sainsbury's is establishing its service through a partnership with Rovi, a digital home entertainment company, and plans to launch it before the end of the year.
Sainsbury's has not revealed details on content deals, pricing or platform partnerships, which are the key areas in which current players, such as LoveFilm and Netflix, fiercely compete.
The news comes in the same week that Netflix, which launched at the start of the year in UK and Ireland, announced it has signed up one million customers in the region, gaining ground on rival LoveFilm, which has two million customers in Europe.
The Sainsbury's service will initially be available on the desktop via the Sainsbury's Entertainment website.
Sainsbury's plans to expand this to connected devices including TVs, Blu-Ray disc players, smartphone and games consoles after launch.
In a similar operation to Tescos' Blinkbox, films will be offered on a cost-per-view basis, rather than for a monthly subscription fee like LoveFilm and Netflix.
Most films on Blinkbox cost between £2.49 and £3.99 per view, and the service also offers a range of free films.
Luke Jensen, group development director at Sainsbury's, said: "On-demand streaming video is an exciting addition to our existing online offerings, and supports our customers as they progress from consuming content on physical disc, to accessing their favourite entertainment on a range of devices, where and when they choose."
Tesco is putting greater marketing muscle behind Blinkbox, in which it bought an 80% share in April last year, having hired Karmarama to handle its advertising account in May this year.
As well as being a place to buy physical books, DVDs and CDs, Sainsbury's Entertainment also sells MP3s and ebooks.
It has bolstered its offering over the past year through the acquisitions of stakes in eBook social network Anobii and online entertainment company Global Media Vault.