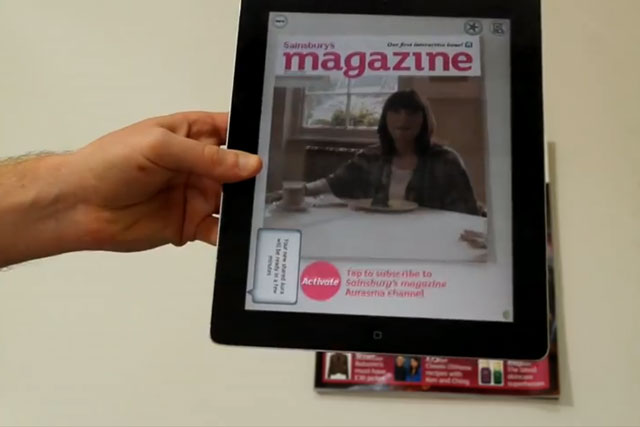 The magazine, which is produced by Seven, will feature interactive print ad campaigns from brands such as John West and will have editorial content including exclusive how-to-videos from chefs Mark Hix and Sam Harris.

Sainsbury's has brought in Aurasma to provide the AR content, which will also include a special message from editor Helen Lang and interactive competitions.



The supermarket is hoping the ability to enhance print campaigns with features including 'tap to buy' buttons will be an attractive proposition to potential advertisers as it seeks to develop the magazine, which it claims is the most widely read monthly paid-for-title.

Readers will be able to scan ad campaigns in the magazine and go straight to the Sainsbury's website to buy featured products, watch adverts or access branded Facebook pages.

The John West interactive advert (see second half of the video above) will allow readers to 'view the story behind every can' with an interactive video feature a character called fisherman Sam.

Sainsbury's claims 832,000 of its readers use the internet on their phones or tablets and almost 700,000 have downloaded apps through their devices, meaning they are 24 times more likely respond to ads on their mobile than the national average.

Mark Critchley, marketing director at John West Foods, said: "John West has chosen to use augmented reality for its 'Story Behind the Can' print advertising campaign as we believe it's a great opportunity to engage people with our brand in a different way.

"Augmented reality means people can access product information as well as our 'Story Behind the Can' TV advert rather than simply seeing a static and one dimensional advert. Also, on a practical level, another advantage is that we can track the numbers of people accessing the content and the length of time they spend viewing it.
"The uptake of the augmented reality content will inform John West's use of this technology in the future."


Follow @mattchapmanuk