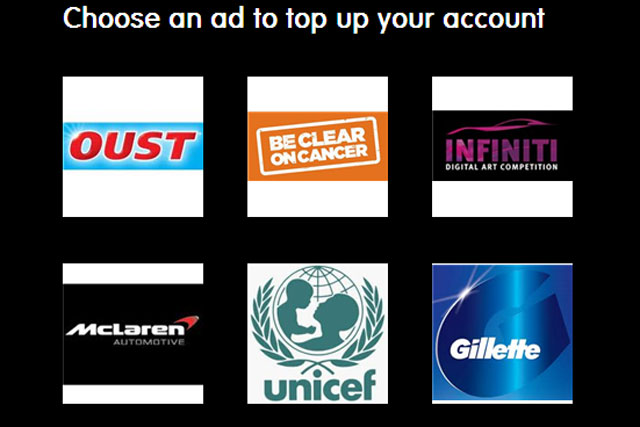 The Samba service enables customers to watch video ads of their choice and earn data credit for internet use on laptops and tablets, without the need for a mobile contract.
It is billing itself as the UK's first free broadband services for users on the go. However, it will face stiff competition if it is to establish itself in a highly-competitive field.
The company has been founded by Ben Atherton, who has previously worked at a marketing agency that offered users rewards in return for providing details about themselves.
According to Samba, customers who watch 2.5 minutes of ads per day, will earn enough data to cover the average consumers monthly broadband consumption, which is at 517MB data per month.
The service has been in beta since May and already has 1,000 customers.
Through its partners, which include social video distributors Unruly, Viral Ad Network and Coull, it has been service ads from brands including Dell, Pot Noodle, Clinique, Nissan and Agent Provocateur.
Samba is in discussions with more partner companies, according to Atherton.
He explained the vision for the service is to expand it beyond videos into other types of content. For example, it has already struck a deal with Apple's iTunes for its customers to earn data every time they click through and purchase using the Samba app.
The service costs £5 for a Sim card or £25 for a Samba Dongle and Sim.
Atherton said the service was designed for people who did not want to be locked into contracts, or be penalized for extra data usage.
He argued that users who view the campaigns will be engaged with the content and not just viewing ads so they can get free data, because they choose what ads to watch. He said that since launch, Samba had been seeing above average click-through rates of 1%-2%.
Atherton said: "Samba users are more engaged because they are in control. They choose what to watch, and when."
There is a revenue share between Samba and its video partners based on a cost-per-view basis. Atherton would not reveal details of the revenue share.
Blyk was one of the earlier pioneers in this space, offering users free text messages and calls by linking customers with brands. Orange UK has partnered with Blyk to provide the service to its customers through its Orange Shots proposition.
Follow Sarah Shearman on Twitter @Shearmans