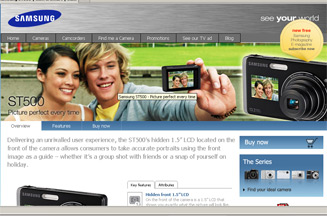 The push, comprising TV, print and online activity, will focus on the recently launched ST500 and ST550 cameras, which feature the world's first front and back LCD screens.
The TV work breaks tomorrow (1 October) and runs throughout the month across ITV1, Channel 4, Five and Sky, alongside other multichannel and video-on-demand slots.
The TV campaign will be supported by print advertising in specialist photography titles, as well as digital marketing activity.
The Samsung campaign uses the tagline 'Twice the fun of any camera'.