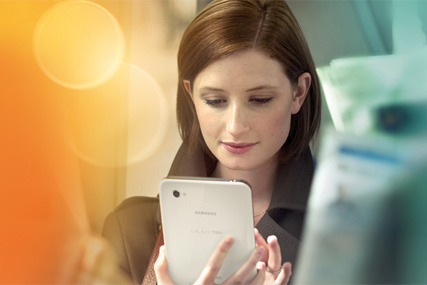 Additional spots include in-game advertising on the Sony Playstation, Facebook reach blocks, online search and display advertising in addition to OOH and print advertising.
Samsung has also secured two media deals – with the Financial Times and London's Evening Standard. The FT has developed a special Samsung Tab app, giving Tab users free FT access until December 1. The FT has previously had great success with one of the first media apps for the Apple iPad.
The London Evening Standard will be published in a wraparound cover using an image to show how the paper would look on the Tab on 4 November. Samsung claim this is the first time the Standard's own editorial will feature in a front page ad.
The campaign develops the theme of 'Life Without Limits', focusing on the portability of the new product, with concepts developed by Cheil, with the YouTube placement and Standard wraparound planned by Starcom.
Gabby Hegarty, head of digital at Samsung Electronics UK & Ireland, said: "The Galaxy Tab is an innovative, ground-breaking product so our media strategy demands the same.
"I'm delighted that we're the first brand in the UK to be using YouTube's mobile site as a way to engage our audience. It is a channel that will no doubt become one of the UK's leading mobile advertising platforms."