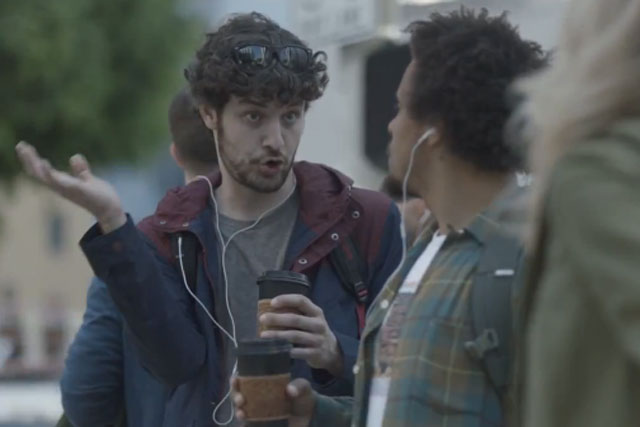 The ad uses the strapline, "the next big thing is already here" and seeks to convince customers that the Samsung Galaxy SIII is a better phone than the iPhone 5.
The controversial ad is a continuation of a global ad strategy that satirises Apple fans and comes as competition between the two companies becomes increasingly bitter.
Both companies are currently locked in legal disputes around the world concerning the breaching of each other's trademarks.
In the US last month a judge ordered Samsung to pay Apple $1.05bn (£665m) in damages after Apple brought a case against Samsung for "ripping off" its design.
The ruling means Samsung will have to stop selling models including the Galaxy S 4G, Galaxy S2 AT&T model, Galaxy S2 Skyrocket, Galaxy S2 T-Mobile model, Galaxy S2 Epic 4G, Galaxy S Showcase, Droid Charge and Galaxy Prevail in the US.
Samsung's current flagship phone, the Galaxy SIII, is exempt from the ruling and Samsung will go to court again in December to attempt to overturn the US ban on its other products.
In the creative for the Galaxy SIII ad, Apple fans are shown queuing for the new iPhone and talking about how it differs from the iPhone 4S through minor changes in features, but does not have major improvements including near field communication (NFC) technology.
One Apple fan is shown boasting "the headphone jack is going to be on the bottom", while iPhone 5 fans are further mocked by the fact a Samsung user is saving a spot in the line for his parents.
The Samsung Galaxy SIII does feature NFC and Apple's decision to not include the technology was described by Tim Dunn, head of mobile strategy at Glue Isobar, as "taking its ball indoors in a move which could sabotage the market and innovation".
He said: "All the new features are things that Samsung and rivals have been doing for a while, such as larger screen size.
"This will of course keep the [Apple] fanboys installed for another launch and help the share price stay strong."
Dunn described the lack of NFC as a "massive disadvantage" for the mobile market. He said: "It is Apple realising they can't win in the mobile payments market, so taking its ball indoors in a move which could sabotage the market and innovation."
Follow @mattchapmanuk