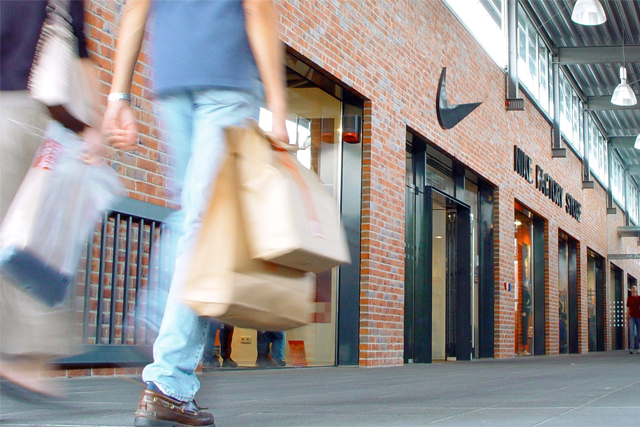 Over a decade ago living standards took a big leap forward. Credit was easy to come by and affordable luxury was attainable for most people.
The internet began to play a more prominent role, assisting information gathering; enriching minds as well as material wealth.
This was reflected in the shopper's psyche - normal to have a TV in several rooms, and to come home from town with more shoes, despite having wardrobes full of them.
It was a time of showiness, of aspiring to betterment, affordable through secure salaries, buying and selling property, re-mortgaging to release equity or simply collecting credit cards.
For consumers there was more choice, better value, greater bargaining power. For retailers it was boom time, contributing circa 10% of GDP and a similar percentage of national employment.
Together with public spending programmes, British shoppers kept the economy on an upward trajectory.
But this golden era ended abruptly and now times are different. Many retailers have gone bust, British high streets are in a state of change, multi-channel retailing is in vogue and social networks have altered our search and buying behaviours.
After strong growth, market conditions deteriorated during Q2 2007 as sales growth softened. In Q4 2008, conditions nosedived after the Lehmann Bros collapse triggered a global financial crisis and a crash in consumer confidence.
That took us into recession and then into what was a slow recovery that began in Q4 2009 with sales growth fuelled by heavy discounting and promotions. It ended a year later with inflation refusing to go away, decreasing levels of disposable income, and uncertainty clinging to the economy, pushing into double dip recession.
The Ipsos Retail Traffic Index - which tracks footfall entering over 7,500 retail outlets in the UK - identifies significant declines in shopper numbers compared with last year. Currently at 5.1% less footfall than last year, the run rate is significantly down on last year (-3.8%).
After optimism created by the change in government and promises to tackle the financial crisis, our preparedness to suffer personal hardship to address the situation is flagging.
We do not enjoy austerity, nor are we sure of any recovery. Inflation last year throttled any growth in the consumer economy, and now Eurozone is knocking our export markets as well as confidence in national finances.
Disposable income levels remain under pressure, inflation continues to outpace wage rises, job security is weak and consumers strive to make ends meet.
Over the past two years levels of consumer credit have dropped from over 6% annual growth to zero, partly attributable to supply side changes. Despite quantitative easing, less credit has found its way through to enable consumers to borrow. Lending organisations have also reviewed their practices to reduce risk of bad debts.
Consumers have managed to kick their former bad habits, more focused on improving personal balance sheets and paying down debt levels than continuing to live beyond their means.
So where is all this leading?
Research points to these changing times significantly altering the mindset and psyche of British shoppers.
Our approach to spending is more regressive and inward, focused on home and family, seeing through recession as best we can. We now spend relatively more disposable income on food, the great comforter.
This retrenchment also means going back to what we know and trust, hence well-known brands weathering economic conditions better that most.
Downturn has led to bargaining and discounting, as retailers attempt to induce spending.
Shopper Present psyche is different from Shopper Past. Even in austerity, though, there is room for occasional treating as reward for steps taken to tighten belts.
Nowadays our spending is considered and responsible. When we do wish spend, we absolve guilt to savour the moment. It has been noticeable in 2012, a year of jubilee celebrations and sporting occasions, that spending has been more events-driven: when people have good reason to shop, they have temporarily broken out of their thrifty status quo.
As for the future, the psyche of Shopper Future will be different again.
Psychological scars will take time to heal. The way we shop has changed and there will be continued refinement.
Take prices. Value is more important than before: "Why pay more, what makes this cheaper/more expensive than other products, is it worth the difference?"
Wellbeing will also be important. Shoppers need reassurance that occasional treating deserved, far removed from previous images of indulgence and showiness.
People are more aware of their role in buying decisions. While 'guidance from others provides peace of mind' is key in the psyche of Shopper Present, Shopper Future will increasingly seek respect, taking confidence from making more considered decisions.
Taking all of this into account, here are ten pointers for retailers:
Work harder to explain differences in value to shoppers
Continue to offer genuine value for money
Wean shoppers off their diet of discounting
Continue to market and help justify 'occasional treating'
Encourage times of quiet celebration
Be respectful to every shopper as a individual, rather than as a loyalty card number
Deliver professional guidance, personal service and offer edited ranges to provide genuine choice
Take legacy seriously and be creative in recycling, rewarding return of old for a deal on new
Emphasise local sourcing and Britishness
Participate in interconnectivity and the new networking world
Dr Tim Denison, head of retail intelligence, Ipsos Retail Performance