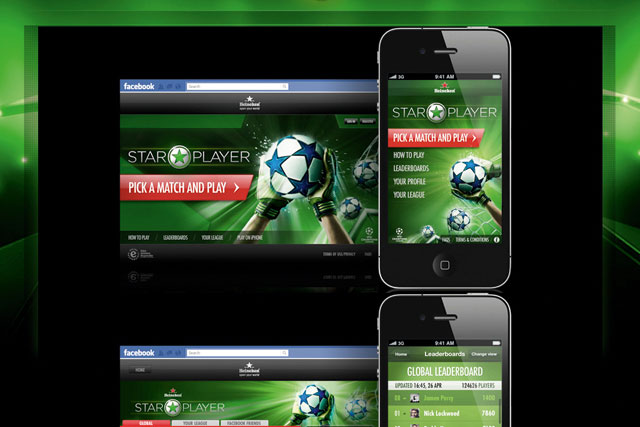 Score: 9
Agency fact file: AKQA

Type of agency
Digital
Company ownership
Independent
Key personnel
Ajaz Ahmed chairman and co-founder
Tom Bedecarre chief executive
Lester Feintuck chief financial officer
Guy Wieynk European managing director
James Hilton chief creative officer and co-founder
Declared income
£41.5m
Total accounts at year end
25
Accounts won
9 (biggest: n/s)
Accounts lost
1 (Sky)
Number of staff
350 (no change)
His belief that the agency should only produce work that "contributes to society" means the business remains set on a path of innovation and creativity. Which partly explains why it won Campaign's Digital Agency of the Year for the third time in a row in 2011.
Last year, AKQA's creative highlight was Heineken Star Player, the dual-screen football game that fans could play while watching the Uefa Champions League. Supporting the brand's sponsorship of the tournament, the work won a gold Cyber Lion at Cannes and it was the only app to be chosen for Campaign's "Pick of the Week" last year. AKQA was also the most nominated digital agency at Cannes for its work with Nike and Heineken.
The agency won new business from clients including the Royal Bank of Scotland, EDF Energy, NatWest, Nissan, Arsenal and Virgin Money. AKQA's only loss was a place on the Sky roster when it was usurped by the digital direct marketing agency Elvis.
AKQA rarely sees senior departures, but its chief creative officer, Daniel Bonner, who had been with the company for 14 years, left in April last year. But James Hilton, the remaining chief creative officer and agency co-founder, shows no sign of budging. Given that he claims he has "never had a proper job", it is quite possible that he will never abandon the agency he helped to build.
Bonner's departure, however, made way for the promotion of the creative directors, Nick Turner and Duan Evans, now the joint executive creative directors. The pair, who have been with the agency for more than a decade, have contributed to AKQA's multi-award-winning Fiat "eco:drive" and Nike "write the future" campaigns. They will no doubt help to maintain the creative excellence so synonymous with a company that continues to set the standard for digital agencies.
Score last year: 9
How AKQA rates itself: 9
"The philosophy behind AKQA is to inspire a culture where people nurture good ideas that will energise and motivate our audiences. We think that it's the best way to move the needle for brands. It's been a great adventure so far, but there's plenty of work left to do. In the words of one of our founding clients: 'There is no finish line.'"