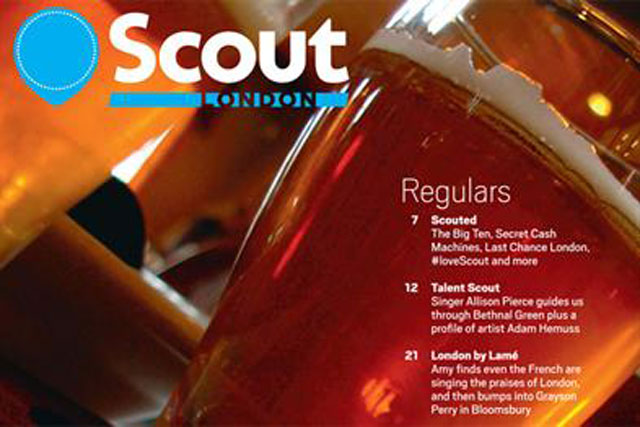 The magazine is due to have an initial print run of 125,000 free copies distributed across 115 Tube stations and railway stations and, additionally, in selected retailers, hotels, health clubs and offices in London every Tuesday morning.
It will be distributed by Emblem Group. It is understood that media agencies had requested a "more integrated" offer across print and online from the publisher.
Scout London will cover London's top food and drink venues, shopping destinations, sport and fitness, film, comedy, club nights, arts and culture and live music.
The publisher has already distributed four print editions, the first of which included advertising from Uniqlo, Converse, Bose, Transport for London, soft drinks brand Yog and the London Sealife Aquarium.
Scout London is already available online at www.scoutlondon.com and is due to be released on the iPad and on Kindle readers.
Jim Zambrano, publisher of Scout London, said: "Following meetings with media agencies, we have decided to delay the the title for a month to look at a more integrated solution for advertisers, so the next edition will now hit the streets in June."
Scout is one of two high-profile launches into the free magazine market over the past few weeks.
On 30 April, Amuse, a free monthly fashion lifestyle glossy targeting affluent women readers in London launched with a print run of 120,000.
The magazine is published by Amuse Media, an independent media company based in Covent Garden.