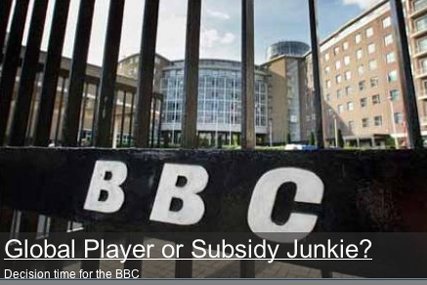 An ASI report, called 'Global Player or Subsidy Junkie? Decision time for the BBC', argues that the fee should be abolished, because it criminalises poor people and forces people to pay for genuinely free commercial terrestrial services that are funded by advertising.

The report also argues that the licence fee forces the BBC to replicate a crude commercial model, based on mass-audience advertising, and that the internet and universal broadband make a licence to broadcast obsolete.
Licence fee payers generated £3.45bn for the BBC in its 2009/10 financial year. The annual fee is currently set at £145.50.
The ASI is committed to free-market economic and social policies. It was founded in the 1970s and heavily influenced former prime minister Margaret Thatcher.

The current BBC Charter ends in 2016 and the report says it would be in the interests of the BBC and the government to switch the BBC to a subscription service before the end of the current charter. The change could be part of the new Communications Bill that will come into law in 2015.

The report says the BBC is an important British institution, but it should work harder for the country, spend less money on opinion management and more on exporting primetime content to other countries.

Report author David Graham said: "Continuing with the current funding model means justified hostility from the rest of the industry, contraction and decline for the BBC.

"The new government seems ready to rethink fundamentals. I hope this paper will help to encourage a serious debate, at a critical time, about a very important British institution."

The report says a subscription model would allow the public the chance to make its own choices, as well as making the BBC more responsive to consumer demands and interests.
A spokesman for the Department of Culture, Media and Sport said: "The current licence settlement goes up until 2012/2013 and ministers will begin decisions next year.

"Ministers accept the principle of the licence fee and some of the reasons why the UK has some of the best broadcasting in the world are because of the different revenue streams."

A BBC Trust spokesman said: "The funding of the BBC is a matter for government. The Trust welcomes the fact that the current government has expressed its support for the continued existence of multi-year licence fee settlements. The Trust remains focussed on ensuring that licence fee payers are getting value for money."