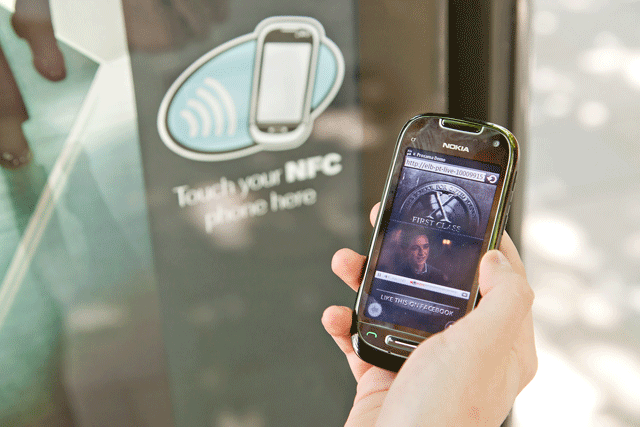 Whisper it quietly, but 2012 could actually be the year of the mobile for media. Five years ago, and perhaps even earlier, high-profile figures in the industry were proclaiming the year of the mobile.
However, it would seem that the out-of-home (OOH) media sector can wait no longer and next year really is going to be the time of mobile, as it begins to provide a number of profitable solutions for agencies and clients.
As the industry is aware, the key to unlocking the potential of mobile is the growth of the smartphone, and a recent report from Ofcom suggested this penetration is taking place at a rapid pace. The report revealed that more than a quarter of all adults (27%) in the UK now own a smartphone, while 28% use their mobiles to access the internet.
These statistics are backed up by agency Kinetic, whose own research reveals that 50% of consumers would download promotions from posters to their mobile phones, while 75% expect to carry a smartphone or tablet when they leave their homes.
Coupled with the increasingly hectic lifestyles of today's consumers, this suddenly makes the prospect of accessing content on the move and out of the home an attractive proposition for brands.
Earlier this year, WPP chairman Sir Martin Sorrell said at the Mobile World Congress exhibition that location-based was the holy grail of marketing, and it can be argued that the OOH sector is the original location-based advertising medium.
Rob Atkinson, Clear Channel chief operating officer, says: "Out of home is complemented by mobile technology, which interacts with our digital and traditional formats while people are out and about."
"We have to remember that mobile and outdoor is a marriage made in heaven."
Mike Hemmings, CBS Outdoor's head of marketing, agrees: "Advertisers can add that extra layer of content that provides the consumer with something there and then on the move, whether it is a discount or just a branded game to bide the time while waiting on a train platform."
Taking this further, Atkinson says: "Outdoor media is arguably the only form of advertising that actually entertains the youth market, rather than interrupting their entertainment."
With regards to achieving this, there is a general consensus throughout the outdoor sector that the content can be delivered to the consumer best via four main pieces of technology.
"Technology will not only revalue OOH, but will forge a far closer relationship with other media, mobile marketing and internet-based campaigns, which will open up new revenue streams," adds Atkinson.
The first, which was launched to a huge fanfare just over two years ago, are QR codes. Although they are big in Japan, QR codes – which are read via a mobile camera and allow the consumer to do something like click through to a particular website, or receive a product discount – have not quite taken off to the levels predicted in the UK.
This could be explained by the fact that QR codes lack that immediate aesthetic level of creativity and perhaps give off an unexciting aura, while most smartphones don't come with the technology to read QR as standard, and consumers are left to download the right software.
However, one piece of technology that is really exciting the outdoor sector is Near Field Communication (NFC). It works in much the same way as an Oyster card, allowing consumers with an NFC-enabled smartphone to make instant purchases, or to download video content.
Mike Baker, Outdoor Media Centre CEO, says: "The NFC technology is certainly the way forward, as it offers so much flexibility. Up until now, outdoor has only just scraped what is possible with mobile, through limited content like games and ringtones. This new technology will allow genuine interactivity and see media owners build more and more of this type of kit into their offerings, which I believe will not be that expensive and instead, create a powerful marriage between mobile and outdoor."
Recent examples of outdoor using NFC was seen with the launch of the latest 'X-Men' movie. Consumers were able to scan the promotional poster for the film in bus stops and receive preview trailers of the movie.
Other innovations include augmented reality, otherwise known as visual recognition, which allows users to point their phone cameras at a poster and, in return, information is decoded and downloaded to the handset.
David McEvoy, JCDecaux marketing director, reveals: "This technology allows clients to bring posters to life, whether it is playing a movie over the top of it, or running an interactive competition. It essentially allows consumers to connect on the go."
Agreeing with this, Hemmings adds: "This functionality can also be enhanced with the phone's inbuilt GPRS, which allows even more location-specific content of layers to be displayed on the users' handsets."
Making these options even more attractive for clients and media agencies to employ is the increase in the level of Wi-Fi that is available out of the home. Sky's recent purchase of Cloud will enable consumers to download not only more content, but at a pace akin to their own home broadband.
Aligned to this is the fact that the cost for clients and agencies looking to take advantage of outdoor and mobile does not necessarily have to be high.
Hemmings says: "Investment can be minimal. A simple QR code directing users to a Facebook promotional page can be produced and included on artwork for free."
However, this is markedly different when compared to the cost of augmented reality, which can be anything from £2,000 and seriously impact on media budgets. But on the flipside, the penetration of smartphones with nearly 60% of the UK population owning one, means the outdoor market is becoming a more valuable advertising hub.
McAvoy says: "Outdoor and mobile is still an emerging market, but the tipping point is about to happen and this will result in a lot of trial and testing to see what works best for the consumer in this market.
"The balance between in-home and out of home should shift over the medium term and certain environments such as railway stations and malls will play an important role in this."
Crucially what outdoor and mobile means for brands is that one of the oldest mediums is driving one of the newest.
Hemmings adds: "Enabling the consumer to interact with a poster using mobile technology means that you are opening up a world of possibilities to your brand, encouraging a dialogue between brand and consumer."
What this means is that the mobile and outdoor is being seen as a way to migrate consumers from that initial poster engagement and tracking its ability to drive them to purchase goods, watch videos, or visit specific websites.
According to Atkinson: "The next level for outdoor will be to turn this interaction into a transaction and, as mobiles become payment devices, the ability to buy off a poster in a bus shelter or shopping mall is going to be transformative."
The key for the outdoor industry is not just that it embraces this technology to provide creative commercial solutions for clients, but that it also has the stimulus and owns all the keys to ensuring it produces the right results.
However, possibly the biggest challenge is getting the consumers to understand how the technology works and what benefits it will provide.
Nigel Clarkson, sales and marketing director at Primesight, says: "Looking at the big picture for outdoor and mobile, the technology will only kick off if it provides something cheaper or easier for the consumer.
"At the moment, we don't have clients crying out for billboards with augmented reality. They are a great PR stunt and people like them, but at the moment, they are being used for one thing."
However, Clarkson admits that by its very definition, outdoor is the perfect medium for mobile.
This is backed up by some research carried out by Primesight and Hitwise, which proves that online searches on mobile significantly increase when outdoor campaigns are on.
Clarkson adds: "Once we learn the benefits for the clients and the prices come down, we will start to see more of the technology used. For instance, I don't think any clients can afford to run an augmented reality campaign nationally at the present moment."
Ultimately, the technology is there and the outdoor industry is poised ready to take full advantage of mobile, which will provide clients with a variety of exciting solutions to interact with their consumers. But until that tipping point is fully realised, the cart will continue to lead the horse.