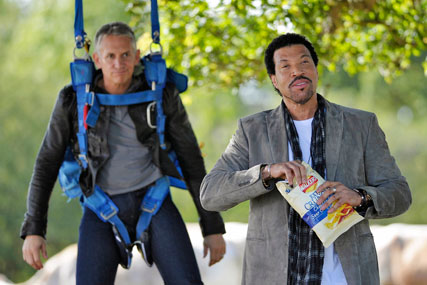 Five Key Trends
Resilient - Despite the recession, sales of crisps, nuts and snacks have grown 27% since 2006 to a value of £3.16bn in 2011.
Staying in - People have chosen to stay in more and buy affordable snack treats, benefiting some of this category.
NPD - With brands investing in marketing and NPD, consumer interest in the category is strong.
Price - Only six out of 10 shoppers stick with a brand irrespective of price; two-thirds look for offers.
Raw materials - As costs rise, brands may have to compromise margins rather than pass on price rises that deter shoppers.
Snacking - Three-quarters of Brits snack; men and the under-45s are most likely to eat crisps and salty snacks daily.
Source: Mintel
UK retail value sales of crisps, salty snacks and nuts
Leading crisp and salty snack brands by value share (£m)
The Industrys Main Players
Sebastian Micozzi, Head of marketing, Walkers Crisps, PepsiCo
In his present role since September, Micozzi oversees the Walkers brands. He has been at PepsiCo for 12 years, working across Latin America and Europe. Micozzi previously worked at Seagram Spirits & Wines Group.
Charlotte Brook-Chrispin, Director, Seabrooks
Currently overseeing the marketing function, Brook-Chrispin joined the family crisp business (founded by her grandfather) as a director in September 2011. Her father, Ken Brook-Chrispin, is chairman and chief executive.
Oliver Rudgard, Marketing director, Tyrrells
Rudgard has held his current position since 2010. He joined from Cadbury, where he was global category director for seasonal chocolate. From 2002 to 2008, Rudgard worked on Unilever's ice-cream brands.
George Johnston, Marketing director UK snacks, United Biscuits
Johnston, who took up his role in 2010, is responsible for brands including Hula Hoops, McCoy's, KP Nuts and Nik Naks. Johnston previously worked on both UB's savoury and sweet biscuits categories. Prior to that, he was in marketing with Boots and Kraft.
Winners and losers in the crisps and salty snacks sector
Doritos - In 2011, sales of PepsiCo's tortilla chips range were up 17% on 2010
Seabrooks - Pushed beyond its Northern stronghold to gain national distribution. Sales have risen 32% since 2009
Walkers Crinkles - A big hit since launch in April 2011, but there is concern the line may be cannibalising the core Walkers brand
Sensations - A revamp in July 2011 looks to have reversed a sales decline, with sales up 19% (year on year, March 2012)
Skips - UB has introduced new flavours and packaging after failing to emulate the retro revival enjoyed by rivals such as Quavers
Pringles - Sales of P&G's tube snack brand fell 7% in 2011; new ownership may boost it