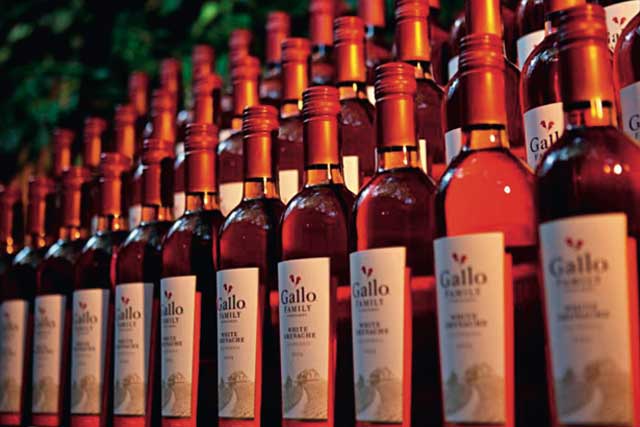 Trends
Popular. Wine remains the most widely drunk of the all alcoholic drinks – drunk by more than half the UK population – although user numbers have dropped in recent years.
Price. Rising taxes have pushed up the price of a bottle. Almost 40% of wine drinkers say they would cut back if the price goes up further.
Promotions. Wine is increasingly viewed as a commodity because of heavy promotional activity. Almost three in five shoppers say promotions are one of their main choice factors.
Packaging. Screw tops and boxed wine are gaining credibility and being seen as of equal quality to that sold in bottles and with corks.
Country of origin. After colour wine is still sold according to country of origin although research points to drinkers seeing grape type as a higher priority.
Demographics. An aging population and increasing ABs over the next five years will benefit the market although consumption remains relatively low among under-35s.
Source: Mintel
Top-selling wine brands in the off-trade by value (£m)
Choice factors when buying wine June 2012 (%)
Base: 1352 internet users aged 18+ who buy wine Source: GMI/Mintel
The industry's main players
Andy Fennell, chief marketing officer Diageo
Fennell took the role of chief marketing officer in September 2008. He has had a long and varied career in the soft and alcoholic drinks industry. While at Guinness he oversaw the 'Good things come to those who wait' advertising strategy.
Patrick Venning, marketing director Pernod Ricard
Among Venning's responsibilities at Pernod Ricard are marketing for its wine brands – which includes Jacob's Creek. Venning took over the role from Vlastimil Spelda to become marketing director in January 2012. Previous roles in Pernod Ricard include integrating brands following the acquisition of Allied Domecq. He has also held positions at P&G and Birds Eye.
Clare Griffiths, European marketing director, Accolade
Griffiths has worked for Accolade Wines/Constellation Brands since 1998. She took over her current role in 2011 having held a number of consumer and customer marketing roles with the company. Prior to joining the wine business she worked at AG Barr and began her marketing career with Unilever.
Winners and losers in the wine sector
Echo Falls. It was the only brand in the top six to see sales increasing in 2011. Sales increased 45% between 2009 and 2011 seemingly benefiting from its Come Dine With Me sponsorship. Sales reached £161m (2011) although 2012 may not be such as strong year for the brand.
McGuigan. Annual sales have grown to about 18m bottles a year in the UK (£72m in 2011) for this Australian wine at a time when many are falling out of favour with Brits. It won International Winemaker of the Year and Australian Producer of the Year in 2011.
Gallo. Sales fell 27% between 2009 and 2011 taking it to £140m. According to Brandwatch data the brand receives more mentions than either Blossom Hill or Jacob's Creek online (it dominated 53% of total conversation in the past month).
Source: Mintel