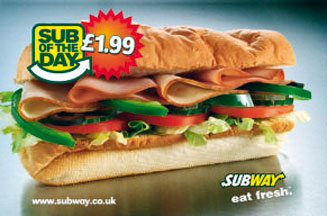 How people spend their lunchtime varies considerably depending on where they live and what they do. While schoolchildren have a defined break, and cultural differences dictate that many Europeans still enjoy a sit-down meal, for others, grabbing a sandwich to eat at their desk is the best they can hope for.
Moreover, even in industries where a working lunch in a restaurant has historically been an essential part of the business, the recession and changing working patterns have put such practices under pressure.
The time available for lunch is decreasing with the knock-on effect that more workers are eating at their desks or skipping lunch altogether in favour of through-the-day snacking. This means convenience food, most often in the form of a sandwich, has a strong footing in lunchtime fare.
There are multiple dynamics affecting the lunchtime food market. Sandwich bars such as Pret A Manger and Eat offer workers fresh, conveni­ent sandwiches as well as salads and modern options, such as sushi, while multiples such as Tesco and Boots offer value-for-money 'meal deals'.
However, for those concerned with saving money or watching calories preparing one's own lunch is gaining popularity.
Seven in 10 consumers now eat home-made sandwiches at lunch, compared with a fifth opting for shop-bought, according to online research by Toluna.
Mintel found that the number of consumers making packed lunches has risen by about a quarter over the past year, with families and 25- to 44-year-olds the most likely to switch to preparing lunches to save money.
Nonetheless, purchased sandwiches remain a major element of lunchtime eating. In 2008 retail sales were estimated to be £4.3bn, according to Mintel. The market has grown steadily, thanks to the rapid increase in the number of outlets, especially among the multiples' convenience-store formats.
Sandwich chain, Subway, which has about 1400 stores in the UK and Ireland, intends to have 2000 outlets by 2010. Its aggressive expansion plans have been supported by marketing investment. Its ad budget topped £9m last year.
Because of their availability and the wide range of fillings, sandwiches remain the most popular lunchtime food, often accompanied by fruit, yoghurt and crisps.
There is a gender divide in this market: women tend to choose healthier options such as salads, fruit and yoghurt, whereas men are most motivated by convenience, favouring shop-bought sandwiches and pies.
As with any food market, it is never long before health becomes an influence and most new product development in prepared sandwiches and pre-packed foods, such as salads, has centred on health. While some are opting for a 'natural' positioning by avoiding additives and preservatives, others are reducing their calorie or fat content of their products.
In March this year the leading coffee and sandwich chains, including Starbucks, Pret A Manger, Eat and Greggs, all committed to lowering the salt and fat content of their products as part of a Food Standards Agency healthy-eating campaign. This will also involve clear labelling of the calorie content of the sandwiches.
Only a small proportion of consu­mers now regularly eat lunch out, with those in the 15- to 34-year-old age range most likely to do so. Regionally, Londoners top the list, perhaps due to a greater choice of outlets.
Over the next five years Mintel predicts the retail sandwich market will continue to rise, albeit more slowly. By 2013 it will be worth £4.8m, a 12% rise (compared with 21% between 2003 and 2008). Once food inflation is taken into account, this equates to an increase of only 2%.