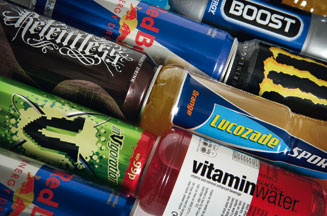 Sales of sports and energy drinks are expected to exceed £1bn by the end of the year, thanks in part to the health claims made in the products' marketing.
However, the sector's success has been tainted by controversy. It was recently reported that staff at a Tesco store in East Sussex had been told not to sell the drinks to children at the request of a local school, which said the high-caffeine products were affecting pupils' concentration in lessons.
Meanwhile, Coca-Cola had its ads for Glacéau Vitamin Water banned by the Advertising Standards Authority for making false health claims. The ASA upheld complaints that the ads, which included phrases such as 'Keep perky when you are feeling murky', implied the vitamins in the drinks conferred health benefits.
The sector's market penetration is relatively low, with only a third of the population buying sports and energy drinks, but sales increased by 51% between 2004 and 2008 to reach £941m, according to Mintel. This growth occurred when many other non-alcoholic drink sectors, such as smoothies and bottled water, felt the negative effects of recession.
Despite this, the category still has a long way to go to compete with its main competitors - soft drinks as a whole were worth £6bn in the UK last year.
Young men are the biggest buyers of sports and energy drinks, and the market's growth has been driven by them using the products more often, rather than winning new customers.
Energy drinks are the powerhouse behind the rise, accounting for £716m of sales in 2008, compared with £225m for sports drinks - although research by Mintel suggests that consumers are confused about the difference between the two product categories.
Sports drinks claim to improve sporting performance or help with post-exercise recovery through hydration and nutrient replenishment. They are often labelled with the words isotonic or hypotonic. Energy drinks, on the other hand, provide a stimulant, and the active ingredients tend to be glucose, caffeine and taurine.
Increased consumer appetite for more natural and healthy products is not widely catered for by brands in this market, although a few are taking this trend on board; Pussy, for example, claims to provide '100% natural energy', while the positioning of Zion Organic is evident in its name. These remain niche products, however, when compared with Lucozade, Red Bull and Powerade.
GlaxoSmithKline has a strong presence in both categories with its market-leading Lucozade Sport and Lucozade Energy, although the latter plays second-fiddle to Red Bull, which became the bestselling energy drink after its UK launch in 1997.
Vodka and Red Bull is now the drink of choice for many, a status achieved largely by its quirky advertising and innovative marketing. The controversy surrounding the brand has certainly not done it any harm in the UK - it has been banned in other countries - as evidenced by the addition of Red Bull Cola to its line-up.
Britvic brought Gatorade, which is a big seller in the US, to the UK in 2006. It has been supporting the brand this year with TV advertising and sports sponsorship.
Coca-Cola, which owns Powerade and Relentless, introduced Monster earlier this year to its portfolio of energy drinks.
A major topic of conversation in this sector is pricing - the brand owners are aware that many would-be users of sports and energy drinks are put off by what they see as their hefty price tags, but they insist that the health and performance benefits of the products justify the outlay, and that the answer is more effective marketing.
Sales in the category will reach £1.5bn by 2014, representing growth of 48% over the next five years, accord­ing to Mintel.
The challenge for the brands is to broaden their appeal to women, older men and office workers. For this they will have to adopt more mainstream messages about their effect on mental energy and position themselves as a general pick-me-up, rather than a physical boost for sporty young men.