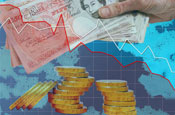 While in June Zenith forecast total UK ad spend would grow by 5.6% in 2009, it now only expects UK ad spend to increase by 1.5% next year.

TV and newspapers are forecast to suffer more than any other media over the next two years. ZenithOptimedia expects TV ad spend to fall 8.3% this year versus 2007 and newspaper ad spend to fall 7.2% this year versus 2007.

Should Zenith's forecasts come to fruition, it would compound what has been, according to Nielsen data, an extremely tough time for media owners with the economic downturn forcing advertisers to rein in ad spend. Analysis of Nielsen ad spend, released exclusively to Media Week, reveals that clients pulled nearly £84m of ad spend year on year during the first seven months of 2008.

Press has borne the brunt of clients' more cautious outlook, with some £67.7m of ad spend being pulled out of the medium year on year - twice the fall of outdoor, the second most-affected medium.

Sly Bailey, Trinity Mirror chief executive, said: "As media businesses, we can't defy the gravity of the ad markets, but we can influence the way we run our businesses so we come out the other side of the downturn stronger and more resilient."

In a rare bright spot for the industry, however, cinema was the only one of the six media assessed to take more ad spend year on year. Gemma Atkinson, sales director, Digital Cinema Media, said: "There has been a huge increase in food advertisers and also travel and transport."

Meanwhile, online ad spend is expected to continue to increase, albeit at rates lower than the boom years of the early part of the decade. Zenith expects year-on-year online growth of 21%, 20.3% and 23.7% over the next three years.

Mark Howe, country director, UK, Google, said growth is "down to the accountability and the opportunities that search is still being appreciated for by marketers".

Zenith expects newspaper ad spend to fall by 4.2% in 2009 versus 2008 and Adrian Jeakings, incoming chief executive of Archant, warned: "It is too early to tell how long the economic downturn will last, but we do not expect things to get any better before the end of 2009."

Zenith's outlook for radio ad spend has significantly darkened. In June, it forecast radio spend would fall 3.5% this year versus last year, but now it is forecasting radio ad spend to fall 6.4% this year.

Stuart Taylor, deputy chief executive of GMG Radio, said: "Obviously the economic downturn has impacted on our revenue, but it has not prompted any drastic rethinks."

According to the Nielsen data, outdoor ad spend fell by £12.6m year on year, but Barry Sayer, chief executive, Clear Channel Outdoor UK & Ireland, said clients will soon return: "Once things have stabilised, people will see they need to spend money on marketing to continue to sell products."