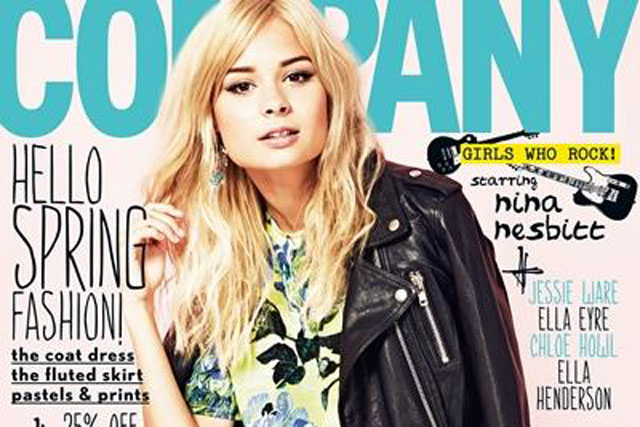 Print circulation for the women's lifestyle and fashion magazine sector as a whole fell by 6.6% for the second half of 2013, according to latest figures from the Audit Bureau of Circulations.
The sharpest fall was for Company, which saw its circulation for June to December 2013 fall by 40,999 to 88,059, compared to the same period last year.
Sam Hughes, head of press at Vizeum, said: "Company really jumps out from the list. They have had a problem for a while now to find the right way to sell their magazine to their 16- to 24 audience who are the ones that are migrating to a digital platform. The year-on-year figures would be a real concern for me if I were at Company.
"Most of the time for the titles in this sector it is about the challenge of targeting a younger audience. The average age of print readers is increasing as the younger readers are moving to digital. The key will be to drive loyalty among the older end of the market and to focus on getting those younger readers through digital.
"There is a future for the print side of these titles and the older audience will still want a print product, but we haven't settled down yet as to what level the publishers think that audience will be."
Hearst's Harpers Bazaar's circulation also fell, by 3.8% to 107,150 year on year, as did the publisher's Cosmopolitan title, which saw a year-on-year circulation dip of 9.5%. Elle was another Hearst title to see a year-on-year circulation fall, of 14.2%, to 166,890.
Meanwhile, Hearst's Prima title recorded year-on-year growth of 1.6% over the same period. In addition, Hearst-Rodale's Women's Health reported a circulation of 105,426 for the last six months of 2013, a year-on-year increase of 3.4%.
Another to post a slight circulation rise was ShortList Media's free title Stylist, which reported a 0.6% year-on-year circulation increase to 435,768.
Hughes added: "Even though Stylist is free, the fact that it is doing well is a really positive story for the fashion category."
Other double-digit year-on-year circulation falls were recorded for Newhall Publication's Candis, which fell 21.4% to 163,890, and IPC's Marie Claire, which reported a circulation of 225,708 for the last six months of 2013, a fall of 11.6% compared to the same period the previous year.
There was a similar circulation slump for IPC Media's Instyle UK, which reported a circulation of 144,638, a year on year fall of 12.8%. The publisher's Woman & Home title in contrast recorded year-on-year growth of 0.6%.
Justine Southall, publishing director for Marie Claire, said: "Whilst print is undoubtedly the soul of the brand, Marie Claire is much more than print alone and the most important element is continuing to have a really clear brand DNA and a really clear audience that is distinctive as a consumer and attractive to advertisers."
Condé Nast's Vanity Fair's circulation also fell, by 16.8% year on year, and stood at 81,344 for the second half of 2013. Tatler, another Condé Nast title, saw its circulation decrease year on year by 6.7% to 81,267.
Meanwhile, the circulation for Condé Nast's Glamour fell by 3.2% year on year to 410,981, but the magazine did report period-to-period growth of 2.5% in the last six months of 2013.
Simon Kippin, outgoing publishing director of Glamour, said: "It is a tough market, there is no denying that. But what we have tried to do is focus on the brand. We have sought to build loyalty among our subscribers. Also we are aware that our audience is increasingly screen-based and are adapting to that, with mobile in particular."