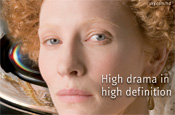 TV ads for the campaign feature sporting and film scenes, and use the song True Colours to help highlight the image quality of programmes in HD. Sky has also secured cinema slots running before the new James Bond film, Quantum of Solace, in cinemas nationwide. The film is released at the end of this month.
The campaign represents the biggest standalone budget Sky has allocated to promoting its HD services, which it rebranded as Sky+HD earlier this year to piggyback on the popularity of its Sky+ product.
BSkyB director of brand marketing Robert Tansey said: 'This campaign reflects the emotion, intensity and richness of life in high definition, focusing on the extra feel you get through a viewing experience which is up to four times clearer. With millions of HD-ready TVs yet to offer an HD experience to their owners, this campaign will outline the quality of experience Sky+HD customers are enjoying right now.'
Sky worked with Brothers and Sisters and Venturethree on the campaign, which will run for four weeks.