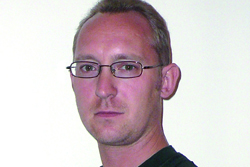 Moving up from digital strategy director, Smyth will report to managing director Jonathan Allan and will work closely with Matt Simpson, head of digital for OMD Group.
His predecessor Shaw is relocating to China, after taking on a new role at Omnicom sibling agency OMD Beijing in March.

Smyth joined OMD UK last September from advertising agency Wieden & Kennedy.

He was poached to work with the agency's strategy department and take responsibility for leading OMD's digital thinking, putting a focus on delivering cost-effective solutions for online brand-building campaigns.

Before Wieden & Kennedy, Smyth spent six years at I-Level alongside Shaw and worked on Orange, Sony, Yell and Procter & Gamble, and ran a team of 20 on the COI account.

Simpson said Smyth had proved himself over the past year to be the best person for the job, as he had a great strategic mind and the ability make digital a seamless part of OMD UK's offering.

Allan added that Smyth was an extremely impressive thinker who gained the confidence of its clients, making him the ideal person to keep driving the agency's perspectives forward as the business rapidly transitions for the future.