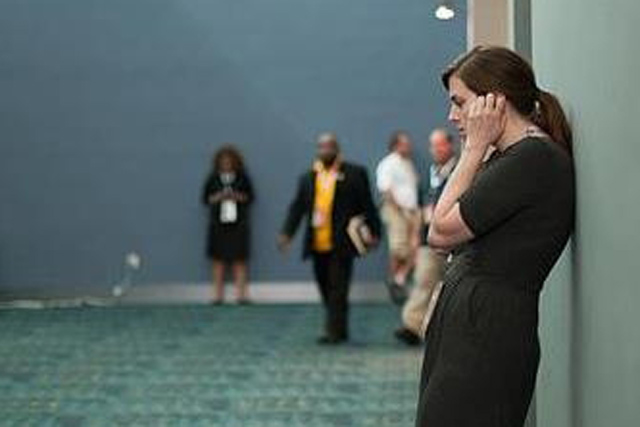 The first presidential debate sparked more than 10 million Tweets, and the final image of a victorious Barack Obama and the first lady hugging, sent with the simple caption "Four more years", became the most popular and most shared on Twitter to date, with more than 800,000 retweets.
By the end of the election, Obama reached more than 60 millions fans and followers on Facebook and Twitter alone, and behind all his social media accounts were just four people who acted as his online voice.
We spoke to Laura Olin, from Blue State Digital, the campaign's national social media director, who was one of these four people behind the official social media accounts for the Obama campaign and was the main driving force, editing and approving everything sent out online.
Olin discussed the success behind the online campaigns, saying: "We always made sure to remember to try not to sound like a presidential campaign. Romney's campaign didn't do as good a job of that."
There were some occasions where the team didn't know how successful their efforts would be, and the success of the famous election-night 'Four more years' tweet came as a surprise.
The tweet was only created on the night itself, when it became apparent Obama might win, where Olin suggested the photo which will now forever be associated with his re-election, along with several copy ideas.
The tweet was sent just before the team went to celebrate the election results and Olin said "I didn't realise how well it had done until I opened up my laptop the next day. It was crazy."
Speculating on its success, she said: "I think we stumbled onto a photo that really captured the emotion of the moment, which was joy mixed with relief. It also captured the big thing supporters love, which is his relationship with his wife."
What helped Obama's campaign stand out was that it retained a human voice throughout, from this declaration of victory, to the humorous response to Clint Eastwood's mocking of the 'Invisible Obama' with the 'This Seat's Taken' photo. Obama's social media campaign was driven by its ability to reach out and talk to people on their level.
Underpinning that ability throughout was a large grassroots campaign that proved to be an incredibly power driver for the campaign, said Olin.
"Obama's grass roots structure, that's not bullshit", she said, and the social media campaign helped to reflect this.
Talking about one of the highlights of the campaign, Olin pointed to the 'Ask Me Anything' sessions on Reddit, which notably crashed the site, and became one of its most-viewed posts in 2012.
Reddit is popular with 20-something males who at the time of election were more disaffected with the president.
Olin said: "We went to where the audience was. This is something we did better than the Republicans. We used what people were talking about and how they were talking about them."
She said that it was important to understand what platforms suited each audience best, pointing to Facebook's love of photos, and Google Plus's love of video, and added that this was one of the biggest lessons she learnt from the campaign.
Often the digital campaigns also corresponded with the successes of the offline campaign, such as with the passing of the same-sex marriage laws. Olin pointed out that while social media was important, its role was primarily to boost the offline activity and said: "Nothing replaces face to face conversation".
But the impact of social media is still important, and Olin admits that even the type of people who can get into power could be altered. She points to Cory Booker, the Mayor of Newark, New Jersey as an example of what social media can achieve.
The mayor gained attention at the end of 2010 when he personally responded to a request for someone to shovel an elderly man's drive way on Twitter, turning up himself as a volunteer.
Olin said: "If he didn't have a really great Twitter account, people wouldn't know who he is Social media allows people to get noticed who would otherwise not."
Looking to 2016
Looking towards how social media might be used in the future and in the 2016 campaign Olin said that targeted content might be a potential area of growth. Initially people could only target location and language, and now age, gender and other factors can also be targeted.
"It is going to become easier to get the relevant content to people" she said.
However, Olin added that it was difficult to predict at this stage what the future will hold for the online space.
She said: "Look at how much has changed from 2008 to 2012. MySpace was the biggest platform and Facebook had half the amount of users."
The 2012 campaign reflected that change – yes, it was the Twitter election, but the Obama campaign made good use of Tumblr and Pinterest as well as Facebook.
Although Olin thinks that Twitter and Facebook will remain the biggest platforms, she noted that five years ago the same thing could have been said about MySpace. Even now, new social media trends such as Snapchat, the non-permanent way of sending photos and video, were becoming increasingly popular in both the US and in the UK.
However, Olin maintained that whatever the future trends, people would find a way to use it, in campaigns political or otherwise.
Follow @chloeellaSmith