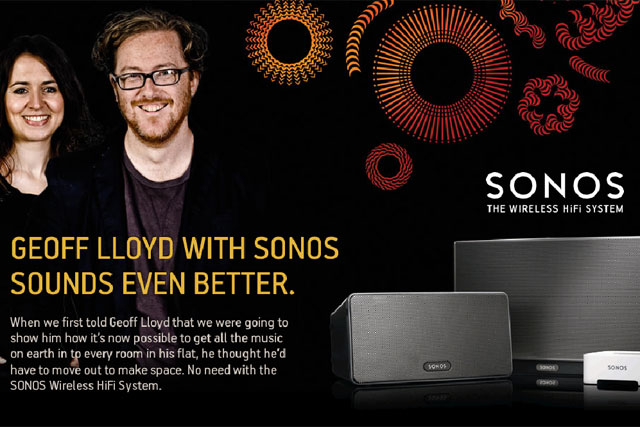 As part of the deal, Sonos will be promoted through sponsor credits and trails across the Absolute Radio network, as well as Sonos-branded 'Record of The Week' and 'Playlist of The Week' features and competitions during Lloyd's show.
The eight-week partnership is the start of a Sonos marketing push following the appointment of Interpublic Group's Initiative as its first media agency in the UK.
Absolute Radio listeners will be able to win Sonos products through a Sonos Treasure Hunt competition.
Lloyd will use the Sonos wireless system to direct his co-host Annabel Port around Absolute Radio's building, where she will find clues for callers to answer. The more answers they get right, the more prizes they will win.
The sponsorship will be supported by a dedicated microsite on Absolute Radio's website, where listeners can enter the competition and find links to the Sonos website to find out more about the company's products.
Sam Ashlin, TV and radio account manager at Initiative, said: "Given that Sonos is targeting tech-savvy music lovers, 'Geoff Lloyd's Hometime show' is the perfect fit, because Geoff is a massive fan of new, up-and-coming music and technology.
"He's had a play-around with the Sonos gear at home and we know he loves it, so we hope that genuine interest from him will come across and add something extra to the sponsorship."
The Sonos system allows people to play music on their computer, as well as music from the internet, throughout their home over its wireless network and to control the music through a range of apps.
Emma Smyth, head of sponsorship at Absolute Radio, said: "The Sonos and 'Geoff Lloyd's Hometime Show' partnership is a great fit.
"Zoning in on the music element of the show to showcase Sonos's product range, as well as the introduction of competitions, works very well and complements Geoff's passion for and knowledge of music".
Follow Maisie McCabe on Twitter @MaisieMcCabe