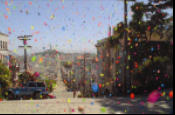 The consumer electronics giant will continue its strategy of anthemic TV ads in a campaign based on a concept dubbed 'Foam City'. The ads, which are currently being shot in Miami by creative agency Fallon, will show various scenarios in which adults and children play in foam bubbles around the city.
The ads follow the award-winning 'Colour like no other' series of ads promoting the Sony Bravia range of televisions, which included 'Balls', 'Paint' and 'Play-Doh Bunnies'.
The camera campaign is expected to break in June.
Sony was unavailable for comment at the time of writing.