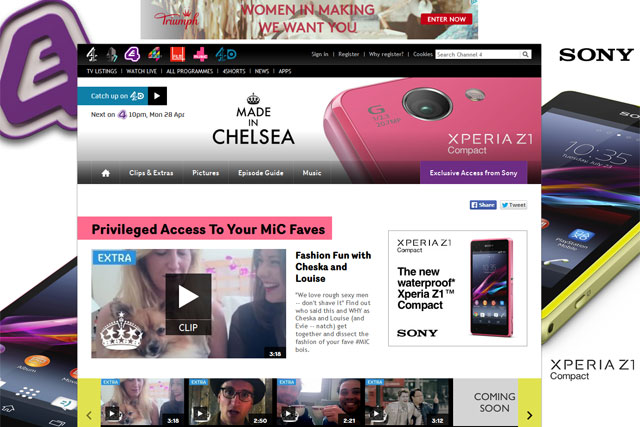 Six cast members of the reality show will be seen using the product, including resident lothario Spencer Matthews and Alex Mytton. The cast will showcase the functions of the handset and its different available colours.
Rob Ramsey, partnership leader at Channel 4, said: "Xperia Z1 Compact is a perfect product placement partner for' Made in Chelsea'. The 'Made in Chelsea' cast are socially active, fun-loving and contemporary making them ideal brand advocates."
The partnership will also include weekly behind-the-scenes content from 'Made in Chelsea' which will be screened on Channel4.com and produced on the Xperia Z1 Compact.
Catherine Cherry, marketing director for Sony Mobile North West Europe, said: "As our brand continues to grow, this type of placement allows broader strategic targeting, accessing a wider and more female demographic. The ability to film content using the device is also testament to its power, being the only compact smartphone that doesn't compromise on features."
The partnership with Sony builds on recent Channel 4 collaborations, including Kenco and 'Sunday Brunch' and Uncle Ben's and Yeo Valley's partnership with 'Jamie's Fifteen Minute Meals'.
Earlier this month, Boohoo.com, the online fashion retailer became the first commercial partner of a Channel 4-commissioned game by signing up to sponsor the channel's 'Made in Chelsea' game.