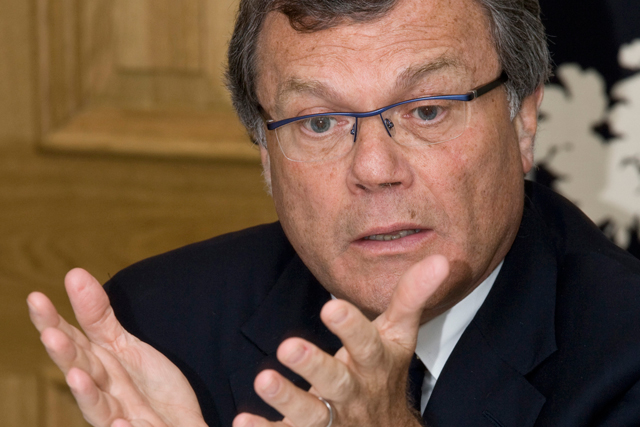 Holding court in a 90-minute Q&A session with Campaign editor Claire Beale, hosted by industry charity Nabs, Sorrell made frequent reference to WPP's uneasy relationship with Google, which he first described as a "frenemy" in 2006.
The first question of the night, posed by Mindshare executive Georgina Faun, was: "Who is WPP's biggest frenemy in digital – Google, Facebook or the guy in a shed in Bangalore?"
There was definitely competition between WPP's latest new media trading platform Xaxis and Google's DoubleClick, Sorrell said, casting WPP as a "$15bn minnow wrestling with a $167bn orang-utan".
Sorrell, who eventually settled on the answer, "all three, but if you push me it's those people in Bangalore", also reminded his audience of his opinion that technology companies of the ilk of Facebook and Google were really media companies.
So there were laughs later when Mark Howe, the Google UK country sales director (and Nabs trustee), announced his presence after being passed the microphone.
After thanking Sorrell for WPP's investment, but getting short shrift from him for using the term "xetabytes of data", Howe asked when initiatives like Xaxis would be able to change the business model of television and make it auction-based in real-time.
Admitting this hadn't happened yet, Sorrell quickly changed the subject and confronted his questioner with a grievance about Google denying his group access to its data.

He said: "The biggest issue for us is we have to work out with you … access. We have to have access – as we act independently for our clients – to the data you have.
"The biggest problem I think that Google has to sort out is how much access to give us, because we compete with DoubleClick, effectively, and Xaxis is the next iteration of that.
"And because of the regulatory issues that Google is increasingly under, you're going to have to decide on that. We both know there were some instances recently where we haven't had that access, we were denied that access, and that's quite troubling."
Sorrell was alluding to the fact that regulators on both sides of the Atlantic have started formal investigations into Google.

This week, the US Federal Trade Commission started a review of Google's search advertising business and in November, the EU started a probe into complaints by rivals about Google's search practices.
Underlining his theme, he added that he thought it was, "quite troubling – particularly at a time when regulators are showing an increasing interest. So this is going to have to get sorted out."
Asked after the event whether he had any arguments with what Sorrell had said concerning Google, Howe said diplomatically: "I've always had a very fair and open position with him. He understands our business well and we do fantastic business."