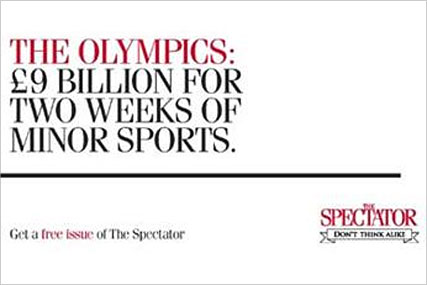 The front cover has been refreshed and there is more emphasis on The Spectator's coverage of culture, arts and literature. There will also be shorter articles and more quotes from industry leaders.
Ogilvy & Mather has created a series of print, outdoor and digital ads that attempt to capture the magazine's stated mission to "provoke debate through elegantly written and highly opinionated comment".
The 182-year-old title, which sells more than 70,000 copies a week, has dropped its "Champagne for the brain" slogan of recent years in favour of the new strapline "Don't think alike".
Activity will include Transvision sites at 12 mainline stations, national newspaper ads, train panels, posters, social media and online MPUs and banners.
Fraser Nelson, The Spectator's editor, said: "This is the first time since the 80s we have refreshed from the front cover right up to the barcode at the back.
"The design has been tweaked and changed over the years, and we've been left with lots of legacies of various designs. This was a chance for us to start afresh."
He said the campaign had benefited from the insights of Rory Sutherland, vice-chairman of Ogilvy Group UK and president of the IPA, who is also an established columnist.