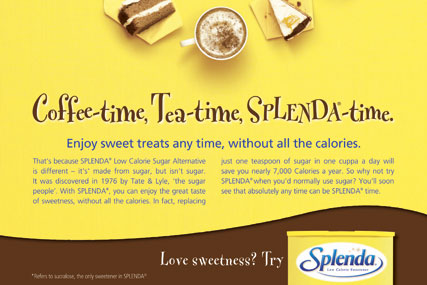 The brand, part of McNeil Consumer Nutritionals, a division of Johnson & Johnson, has approached a number of agencies for the business.
In 2008, Splenda appointed Proximity to handle its £2 million promotional advertising account without a pitch. It will not be competing for the digital part of the business.
Proximity was responsible for producing a programme to promote Splenda's partnership with the 2008 Olympic Games. Last year, the agency launched a press campaign aimed at persuading women to switch to its low-calorie sugar alternative.
A Splenda spokeswoman said: "Splenda has an ongoing policy of constantly reviewing its agencies to ensure it remains at the forefront of consumer marketing."
Splenda uses BBDO for its advertising work. The network secured the $35 million account in July 2007.