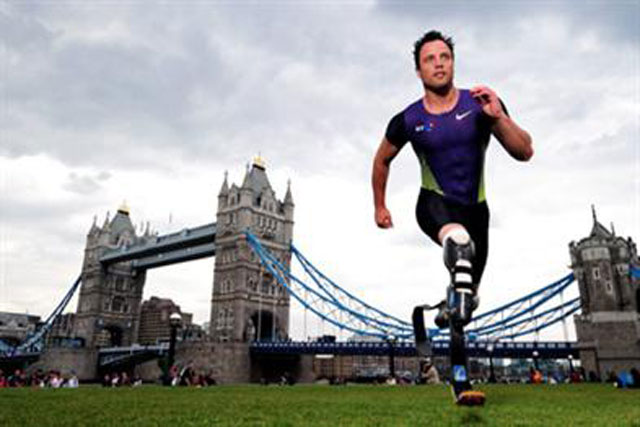 BT and Nike have both come out in support of Pistorius, one of the poster boys of the Paralympic Games.
Pistorius has lucrative sponsorship deals with BT, Nike, Thierry Mugler and Oakley.
BT said "We look forward to supporting him as he turns his attentions to his next races in the 100m, 400m and four by 100m relay."
Nike said it was proud to sponsor Pistorius.
Pistorius criticised the International Paralympic Committee (IPC), saying gold medallist Oliveira's artificial legs were too long, after the Brazilian beat him in the Paralympic T44 200m final.
Pistorius's defeat was one of the biggest shocks of the Paralympics so far.
After the race, Pistorius said to Channel 4: "We are not running in a fair race here. I don't know how you can come back, watching the replay, from eight metres behind on the 100 to win. It's absolutely ridiculous."
Pistorius – who has lucrative sponsorship deals with Nike, BT, Oakley and Thierry Mugler – subsequently apologised for his outburst. However, some experts believe his outburst could cost him future sponsorship deals.
His outburst has prompted a mixed response from sport sponsorship experts. Some believe the incident could negatively impact his standing with sponsors while others believe it will have no impact at all.
Nigel Currie, executive at brandRapport, said: "Despite the apology that Oscar Pistorius has issued, his comments to Channel 4 after his shock defeat by Brazillian Alan Oliveira will be received by many as sour grapes.
"The increased media coverage of the Paralympics has attracted unprecedented new levels of interest from sponsors and Pistorius would expect to benefit from this. However new names and faces are always attractive to sponsors and with the next Paralympics being in Brazil, Oliveira , who is six years younger than Pistorius, now has the chance to steal the limelight and become the flagbearer for the next Games in 2016."
But Rupert Pratt, managing director of Generate Sponsorship, believed the incident would have limited, if any, impact on his sponsorship credentials.
Pratt said: "Oscar Pistorius's outburst at the weekend is unlikely to have affected his sponsorships. Although not ideal, it is an isolated incident in the heat of the moment. He is one of the highest-profile Olympians, heavily endorsed and I would expect sponsors to be forgving."
Follow @johnreynolds10