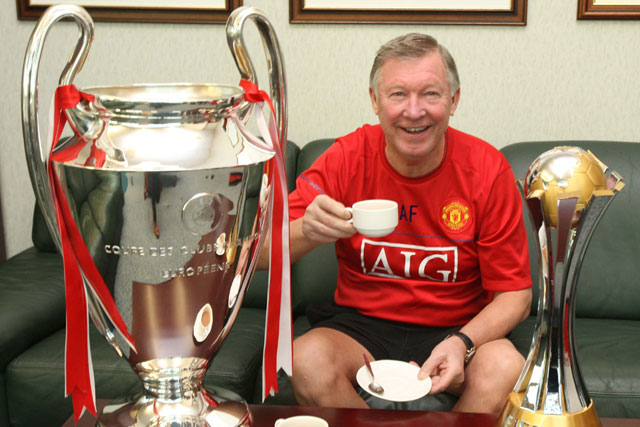 Manchester United this morning confirmed that Ferguson would depart at the end of this season, an announcement which has prompted a whirl of activity and accolades across digital channels, including from the club's sponsors.

Former club sponsor Umbro, which was the club's kit manufacturer between 1992 and 2002, took to Twitter, Facebook and Instagram today to ask fans to choose their favourite club shirt over the period.

Sharp Electronics, the club's shirt sponsor between 1982 and 2000, paid tribute by wishing Ferguson "Happy retirement" on Twitter.

Nike, the club's current kit supplier said: "Sir Alex Ferguson is one of the greatest managers the game has ever seen and he will be greatly missed by all of the Nike employees who have been lucky enough to work with him during the last 10 years.

"We're sad to see him stepping down from his role as Manchester United manager, but we're delighted that he will remain at the club as a director and ambassador."

Thomas Cook, the club's official travel partner, and Aon, the current shirt sponsor, said they were all readying statements and were likely to pay tribute to Ferguson. Logistics partners DHL would not comment.

Meanwhile, some sponsorship experts believe Ferguson's departure will prompt concern among some of the club's sponsors, particularly those that have recently signed a deal or are about to renew an existing deal.

GM-owned Chevrolet, for instance, recently signed a seven-year shirt sponsorship deal with the club worth about £25m a season, beginning from the 2014/15 season.

Rob Mason, managing director at IMG consulting international, said: "It will be a worry for sponsors. Manchester United is the best-supported club in the country and there will be a worry as to whether this success will be continued under the new manager. Ferguson has been a fundamental reason for the success of the club and you are now taking that away."

Nonetheless, some believe that Ferguson's new role as an ambassador could prove beneficial to sponsors.

Rupert Pratt, managing partner of Generate Sponsorship, said : "Ferguson is obviously an incredible asset to the club and actually is likely to have more involvement with sponsors commercially, as he moves to be a club ambassador and director. A similar mould to that of Sir Bobby Charlton."