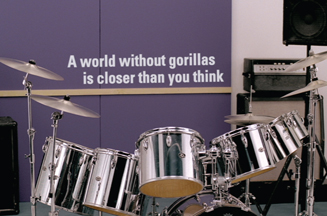 The explosion in the number of spoof viral ads can be directly correlated to the rise in broadband penetration, which has made it easier for consumers to access and share video.
Specsavers, Pot Noodle and Wonderbra are among the brands that have recently opted to use this tactic, which can be rewarding, but does not come without risks.
The art of spoofing an ad involves taking another brand's piece of creative - ideally one that has transcended the advertising world and entered into popular culture - then moulding it into something that viewers want to share, and which therefore benefits the spoofer's brand.
Leagas Delaney managing director Elliot Moss says spoof virals are very cost-effective as they cut out the need for a media spend, while producers and directors often charge cheaper rates than they would for a TV ad. He adds that those that work best are 'gratuitously sexual, violent or funny'.
One of the most famous ads spoofed in recent times has been Cadbury's cult 'Gorilla' ad. Mixed in among home-spun spoofs posted on YouTube is an effort from Wonderbra showing a buxom woman drumming away, wearing a not overly supportive bra.
However, it has also been used in a more serious way. Earlier this month the International Fund for Animal Welfare launched a video, created by Rapp, which, in a radical twist, dispensed with the gorilla and Phil Collins soundtrack of the original. It shows the drum kit against a purple background accompanied by the line 'A world without gorillas is closer than you think'.
Caution needed
The 'spoof' strategy may seem attractive, but Jim Prior, managing director of The Partners, points out that it is not suitable for all. 'It can only work with brands that are prepared to poke fun at themselves, that aren't egotistical,' he says.
While most companies are upfront about their spoofing antics, the practice can sometimes be shrouded in what Prior calls 'veils of mystery', where marketers and agencies collude in a less than transparent fashion.
Last year a viral spoofed Citroen's 'Transformer' ads, racking up more than 1m views on YouTube. The film, a suspiciously slick production, shows the Citroen car frustrating its owner by refusing to stop dancing, while his colleague simply gets into his Chevrolet Aveo and drives home. The end frame includes a link to Chevrolet's website and it was reported to have been created by the car marque's agency, Strawberry Frog, despite Chevrolet claiming to have no knowledge of the video's origins.
Not everyone values the idea of spoofing. Wieden & Kennedy managing director Neil Christie says that while he welcomes all the 'spoofs, piss-takes, and tributes' that have appeared of the Honda ads created by his agency, he questions their worth. 'It's hard to think of an example where the imitation is more powerful than the ad that inspired it,' he adds.
Even those who have used spoofs urge caution. James Hilton, co-founder and chief creative officer of AKQA, which created a viral for Pot Noodle spoofing Guinness' 'Tipping Point' ad, says: 'Unless the idea is adding something, then no brand should ever do a spoof, because the danger is that they end up looking stupid and unimaginative.'
It is clear that spoof virals can be a cost-effective and fun way of engaging consumers, but marketers should proceed with care when considering them, to avoid wasting their own time, at best, or, at worst, damaging their brand.