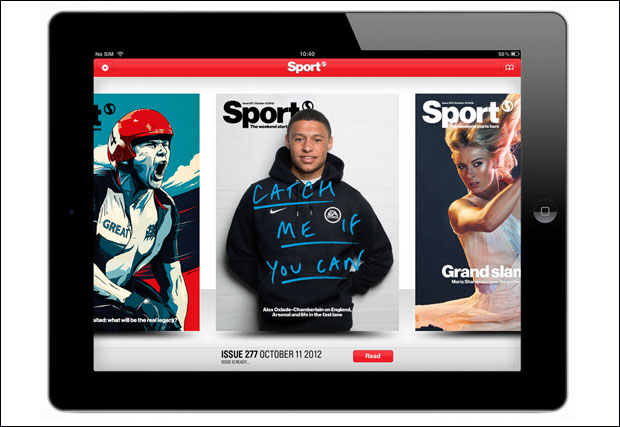 The magazine launched its iPad edition with an exclusive ad partnership with WPP's GroupM in November 2011. It claims that the app has been downloaded more than 65,000 times.
In the recent Audit Bureau of Circulations (ABC) figures, covering January to June 2012, Sport recorded an average circulation of 305,676, down 0.2% year on year.
Commercially, the iPad edition has attracted brands including Gatorade, Davidoff, LG and Calvin Klein who – according to UTV Media – have built on their advertising in the print edition to "create bespoke and innovative digital campaigns".
Cyclist Mark Cavendish was the cover star for the first iPad edition and featured in an exclusive behind-the-scenes video for the magazine. Recently, the digital edition has included exclusive video content with footballer Nemanja Vidic, Olympic gold medallist Sir Steve Redgrave, and golfer Ian Poulter on the Ryder Cup.
Kurt Edwards, commercial director, TalkSport and Sport sales, said: "As the biggest sports magazine in the UK, we were confident that developing an iPad version was the correct step to take bringing the magazine to readers outside our usual distribution area.
"The clear positive reaction from readers and advertisers alike has been very encouraging throughout the past year. We're looking at the best way to expand the brand and continue our digital offering."
In August, Sport announced that Channel 4 would be sponsoring its coverage of the Paralympics, in addition to running tactical activity on the title's sister radio station, TalkSport.
The magazine was first published in France in 2003 as a free monthly title, and in March 2004 as a weekly. The London edition started up on 29 September 2006, the first of its type in the UK and was sold to TalkSport owners UTV Media (GB) in 2009.
It was originally owned by the French company, Sport Media & Strategie.
Sport was awarded Cover of the Year at the 2012 PPA Awards for its front cover featuring the former England footballer, Paul Gascoigne.
Follow @nickbatten2