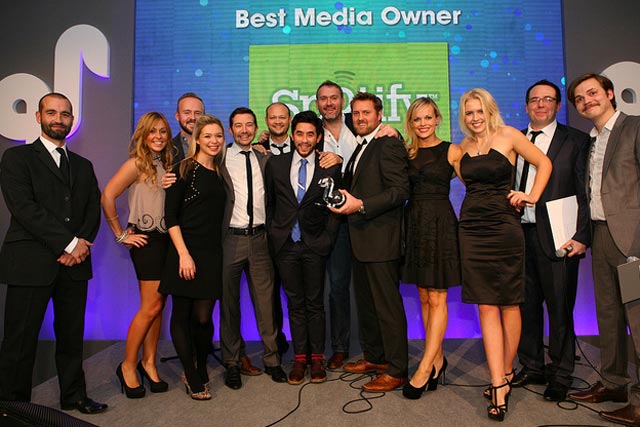 The online music streaming service beat Associated Digital Media and AOL to take the Best Media Owner category while it beat out Glam.com and AOL to take the Best Innovation award.
Adam Williams, UK sales director at Spotify, said: "It's a great honour that our clients have recognised us in this way. We believe it's because every salesperson here is different, but we all share this sense that we're doing something special together.
"We are madly proud of our work, of each other, of our creativity and innovation, and of the service we provide. It's not just a team and not just a business – we honestly believe we're helping to shape the industry."
In the best cross media category Telegraph.co.uk took the honours after seeing off competition from rivals The Guardian and Bauer Media, while the Bet Partner bragging rights went to AOL who trounced Microsoft and digital agency tribal Fusion.
Other awards included Most Effective Online Campaign, which was taken by Yahoo for Sainsbury's with Tribal Fusion missing out for both its Debenhams and Disney clients.
In the people-based categories Commercial Director of The Year was awarded to James Brown, general manager for digital advertising at Telegraph Media Group with Ed Preedy, commercial director at Tribal Fusion (Exponential) taking highly commended.
Brown said: "Winning the Commercial Director of the Year Award is a great accolade as it was voted for by customers. The award is further proof that we at The Telegraph are continuing to broaden our audience through investment in technology and innovation."
The rising stars of the digital sales industry included Neil Murphy, senior commercial executive at InSkin Media who took Sales Newcomer Of The Year with Rachael Morris, account manager at Infectious Media, awarded highly commended.
In the Unsung Hero category the winner was Caroline Elliott, head of account Management at EU, Firefly (Exponential) with Beth Gordon, director of business marketing for Europe at Spotify and Neil Whittaker, head of design at InSkin Media both taking highly commended awards.
Pete Robins, IPA Digital Media Group chairman and managing partner at Agenda 21, said: "The level of interest in this year's MOAs is a positive reflection of how they have grown to be valued by those in the industry. Furthermore, the standard of work from the winners makes them worthy of their awards and they should be congratulated accordingly."
Nigel Gwilliam, IPA digital consultant, said: "The MOAs are our opportunity to champion something very important to our members - receiving great service from their trading partners. We are delighted that such a broad selection of companies are represented amongst our winners and look forward to these awards growing in scale and stature again next year."
The awards were based on a culmination of the spring and autumn Online Media Surveys from the IPA who released the latest findings to Media Week today.
In the latest IPA autumn survey Associated Newspapers Digital took this period's plaudits with 85.7% of respondents agreeing/agreeing strongly that "My overall experience of dealing with this supplier is a good one".
The result is the first time Associated Newspapers Digital has come top in the survey. The Telegraph.co.uk took second place, recording a satisfaction rating of 80.6% while AOL recorded 80.4%. Following, Ad-2-One reached a figure of 79.8% with customers, while Spotify reached a rating of 77.3%.
Tribal Fusion scored 74.3% and Conde Nast was 70.9%.
My overall experience of dealing with this supplier is a good one
Source: IPA Digital Media Owners Survey - Autumn 2012