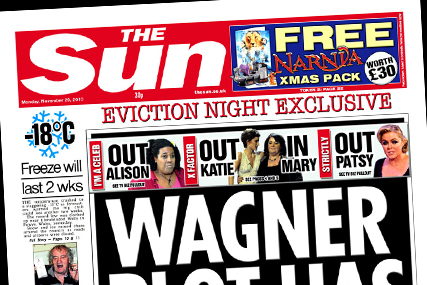 The latest figures run from October 2009 to September 2010, a period of time which has seen newspaper circulations continue to fall as consumers desert the print media.

However, the latest NRS figures reveal some pockets of optimism for the newspaper industry.

Richard Desmond's red-top The Daily Star recorded a readership figure of 1.55 million, about level year on year, helped by the cutting of its cover price in London.

During the period, Desmond - who is attempting to overtake the circulation of the Daily Mirror - was selling the paper at a discounted 10p in the capital.

Desmond has now ended the price discounting and the title costs 20p in London, the same price as The Sun.

News International-owned The Sun is far and away the best read title in the country, boasting 7.7 million readers, a fall of 1% on the year, according to the figures.

Likewise the Guardian enjoyed a strong period, down just 1% to 1.13 million readers.

The rest of the national daily titles had less to celebrate, though they will likely point to the performance of their digital offshoots as indicators of better overall health.

The Daily Telegraph recorded a readership of 1.75 million in the period, down 5%, while The Times was down 11% to 1.6 million.

Alexander Lebedev's The Independent fell 13% to a lowly 556,000 readers.

Across the mid-market titles, The Daily Mail outperformed The Daily Express but failed to gain ground on the market-leading paper, The Sun.

The Lord Rothemere run title reported a readership figures of 4.74 million in the period, down 4%, while The Daily Express was down 11% to 1.4 million.
The NRS surveys 36,000 people to estimate newspaper readership, unlike the ABC, which audits the number of copies of papers distributed.