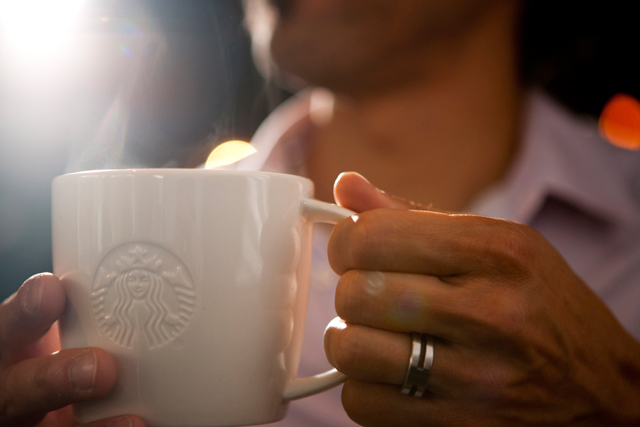 The Verismo will produce single cup coffee at home and is due to launch in the US this autumn. The price and a UK launch date have not been revealed.
The device has been developed with Krueger, a German-based company that sells in the US under the Keurig brand name.
It will use the Krueger K-Cup system, which uses small disposable coffee "pods" for each brew, just as the Nestle Nespresso system does.
The brand is not available in the UK but in the US, Keurig K-Cup devices sell for between $99-$250 (£62-£158).
Howard Schultz, Starbucks chairman, president and chief executive, said: "The premium single-cup segment is the fastest-growing business within the global coffee industry.
"We have long believed that the biggest prize within the segment is a high-pressure system that would give us the opportunity to deliver Starbucks-quality espresso beverages at home and at work for customers who desire the Starbucks espresso experience outside of our stores."
Under the deal, Starbucks will market and sell the Verismo-branded device online, at some coffee shops and retail outlets in the US, Canada and "select international markets", alongside its K-Cup coffee pods.
Starbucks introduced freeze-dried coffee in 2009 with Via, and moved into K-Cup packs last year. It claims to have sold more than 100 million K-Cup packs in the first eight weeks.
Jeff Hansberry, president of channel development for Starbucks, said: "We now have the opportunity to reach millions of customers who have been looking and waiting for a uniquely Starbucks solution in the fast-growing premium single cup coffee market with a coffee quality, taste, roast variety and design sensibility that is consistent with Starbucks brand and reputation."
Starbucks will kick off a multi-million pound campaign for stronger lattes in the UK later this month.
Other recent expansions at the coffee chain include the acquisition of juice brand Evolution Fresh in November last year, and the launch of 200 drive-through shops.