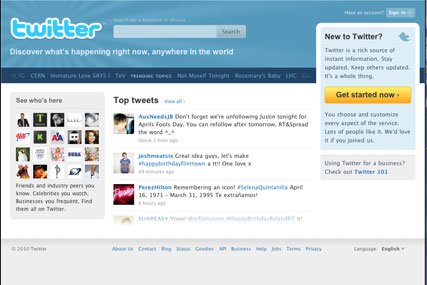 Launching in beta for a month from today (12 April), TweetUp will be the first business designed to monetise tweets through the same principle as search advertising.
Founded by Gross at Idealab, TweetUp has been backed by venture capitalists Index Ventures, Revolution LLC, First Round Capital, Jason Calacanis and blogger Jeff Jarvis.
Tweeters and advertisers will be able to bid on keywords, the auction-based advertising model used by Google, pushing their tweets to the top of TweetUp's search results.
TweetUp's sponsored tweeters include Huffington Post founder Arianna Huffington and businessmen Richard Branson and Al Gore.
Gross said: "Twitter has such tremendous potential as a real-time information network far beyond what has been realised to date. For most people, though, 80% or more of the tweets that fly by them when they're searching for something are useless noise. For serious tweeters, the task of attracting interested and relevant followers is equally daunting. TweetUp will change all of that."
TweetUp's search results will be available to hundreds of millions of individuals through revenue-sharing distribution agreements with leading Twitter clients, including Seesmic, Android client Twidroid, and the leading source of tweets, TwitterFeed. TweetUp will also be available on other mainstream websites including social media authority, Klout, as well as popular sites including BusinessInsider.com, Answers.com, and PopURLs.
Together, these clients and web sites will bring TweetUp search results to more than 40 million unique users per month, and serve more than half a billion impressions a month.
Twitter has yet to make significant revenue other than selling its feed to Google and Microsoft. Until now, founder Biz Stone has been concentrating on making the site one of the most powerful social networking sites on the planet.
However, today Twitter announced the acquisition of mobile app Tweetie from Atebits.
Tweetie will be renamed Twitter for iPhone and made free – current cost is $2.99 – in the iTunes AppStore. Loren Brichter, the developer behind Tweetie, will join the Twitter mobile team.
Twitter attracted 4.2 million UK users in February, according to UKOM.
Read more on Brand Republic blogs