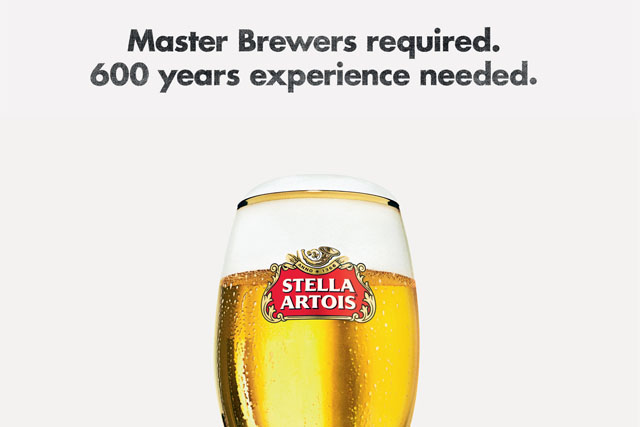 For the past three years, the AB InBev-owned lager brand has run advertising that harks back to a 'swinging 60s' life of 'city chic' and the French Riviera across its Stella Artois 5% and 4% brands respectively.
It also used the retro theme for the launch of its cider brand, Cidre, last year.
However, in a strategic shift, the latest ads, which are being rolled out across outdoor, digital and print, focus heavily on the product and the brand's 'chalice' glass. AB InBev claims the glass has been instrumental in turning around public perception of the brand in recent years.
Ads, by Mother, use slogans such as, 'We were brewing beer in Belgium before Belgium was Belgian', and 'Master Brewers required. 600 years experience needed', both of which refer to the beer-maker's origins in Leuven, Belgium, in 1366.
Since 2008, the brand has undertaken several eye-catching marketing initiatives all using the 60s aesthetic.
The launch of Stella Black, its limited-distribution, on-trade-only, premium variant, was promoted through an immersive theatre production set in Paris in the 60s. Its outdoor ads also featured illustrations by Robert McGinnis, famous for creating posters for classic Hollywood movies such as Breakfast At Tiffany's.
A spokeswoman for AB InBev said the latest work fell under Stella Artois 5%'s 'She is a thing of beauty' positioning.' However, she added: 'The campaign will focus on the 600 years of Belgian brewing heritage in the creative straplines, emphasising the brand's dedication to the simple, original techniques that deliver Stella Artois' unique bitter taste.'
The brewer had used its award-winning 'Reassuringly expensive' campaign for more than 20 years, until in 2007 it switched to ads based on the idea 'Pass on something good', also promoting the brand's heritage.