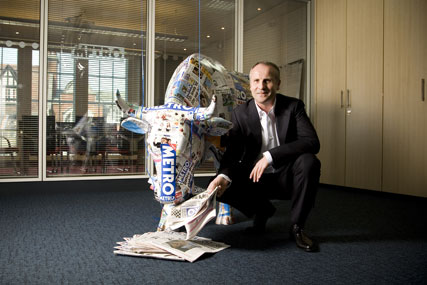 The straight-talking Yorkshireman has been part of DMG Media for many years and made a name for himself first time round as managing director of Metro between February 2002 and March 2011. He went on to become managing director of Northcliffe Media and, latterly, chief executive of its local newspaper conglomerate, Local World.
Auckland's arrival confirms a Media Week story about his return. The 58-year old is a known entity to the management team at Daily Mail & General Trust, with key decision-makers said to value his transparency and newspaper nous.
Media Week understands those same decision-makers have been less assured by his successor turned predecessor Linda Grant and her sharp focus on digital innovation. Falls in print ad revenues at the free Metro this year are believed to have ratcheted up tensions at the company.
If true, it suggests Grant has fallen victim to leading the transition into digital faster than the publisher and, arguably its advertisers, wanted. However, with Metro's digital advertising increasing 44% in the year to 30 September and new popular apps firmly in place, the debate will continue.
Auckland said today: "I am delighted to be back with Metro. I know the strengths of the team and I am looking forward to developing the print product further as well as continuing to build on the brand's excellent digital platforms, especially Metro's popular mobile app."
Commenting on Auckland's appointment, Kevin Beatty, chief executive of DMG Media, said: "Steve is well placed to build on the excellent progress made by Metro over the past few years, and I very much welcome him back to our team."

Launched in 1999 as a concise read for urbanites on the commute, Metro today distributes 1.4 million copies across 50 UK cities and read by 3.4m readers.
Follow @DurraniMix