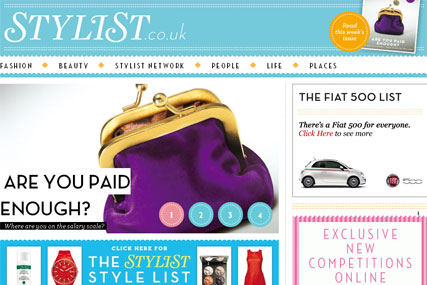 The independent publishing company, run by founders Mike Soutar and Tim Ewington, is also relaunching the website for its men's title ShortList, timed to coincide with ShortList's third anniversary and will go live on Thursday.
Previously, Stylist.co.uk existed only as an exact digital replica of the printed magazine, which users could read by virtually turning the pages with a click of the mouse.
The new website works as a separate online magazine, with re-edited content from the printed publication and additional regular updates. A digital replica of the magazine also remains accessible online, so readers can enjoy the title if they have not picked it up during the commuter rush.
In print, Stylist's opening feature is a rundown of 30 products called The Style List. The online magazine has made this feature interactive, so users can click on the items, which will then drive them to the retailer's website.
Mike Soutar, ShortList's chief executive, said: "It's a living, breathing, daily updated site. It has a channel called the Stylist Network, which brings together a community of like-minded, career-focused, ambitious young women. We wanted to bring to the market a bigger, more integrated Stylist.co.uk."
Brand spin-offs for Stylist include regular career-focused talks with business entrepreneurs, where an average of 200 Stylist readers buy tickets to attend the London-based sessions.
Fiat is the sole launch advertiser for Stylists' new website and has a top banner running across the site. Advertising is being handled by external sales house Ad2One. Fiat is also the launch advertiser for the revamped ShortList.co.uk.