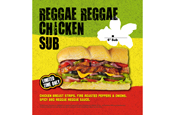 The Reggae Reggae Chicken Sub, which contains the hot sauce and peppers, will launch this summer, but could become a permanent addition to the menu.
Subway is backing the product with an ad campaign across TV, outdoor and radio, breaking next week. Roots, who was shortlisted for best reggae singer at the 1998 MOBO awards, will also perform at Picnic Rocks, the Subway-sponsored music event taking place on London's Clapham Common this Saturday (5 July).
Roots came to public attention when he sold a 40% share in his sauce business to investors Peter Jones and Richard Farleigh on BBC Two's business-reality show Dragons' Den and gained a listing for the brand in Sainsbury's.
Separately, Subway European marketing director Paul Reynish will now be responsible for all territories outside the US. As vice-president of international marketing, he will oversee the expansion of the chain.