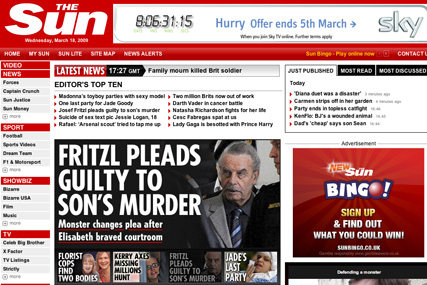 Sun Quiz Live will enable users to play against one another in real time, and to interact with the presenter, crew and their fellow players. It will be based on a variety of word, number and logic puzzles lasting a few minutes each.
The show will initially be scheduled for two hours per day, five days per week. Visitors to thesun.co.uk will be able to watch free, but the games themselves will be offered on a pay-to-play basis.
The launch marks the latest phase in The Sun's ambitious digital development, which is being made possible by News International's £1m investment in new TV and radio studios.
The purpose-built multimedia studios will enable the group's journalists to use state-of-the-art video and audio facilities. Journalists will be able to produce content for its websites in-house and participate in live broadcasts.
Earlier this month, it unveiled plans is to launch an online radio station, Sun Talk, on 20 April. The station will be hosted by former TalkSport host and current Sun columnist, Jon Gaunt, every morning for three hours between 10am and 1pm. The station aims to reach 150,000 listeners within its first year.
The Sun Online boosted its online user figures by nearly 25% in February to become the most popular newspaper website in the UK, overtaking Guardian.co.uk and Times Online for the first time, according to the latest ABCe results.