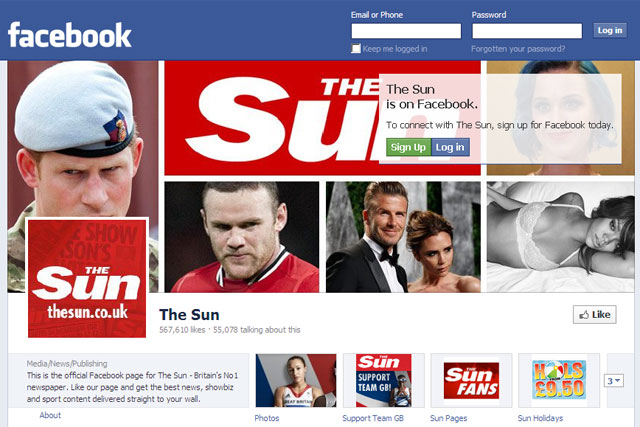 The News International-owned tabloid title reached the milestone in the past few days, prompting News International marketing director Katie Vanneck-Smith to claim, "The Sun is the original social media".
National newspapers have sought to harness Facebook as a marketing tool and News International is expected to use the social network heavily for its only UK newspaper not behind a paywall during the Olympics.
Vanneck-Smith added: "Social media is a way to connect people and The Sun has always done that."
It is thought to be the first newspaper brand to reach the one million likes mark. The Sun is leaving other newspapers trailing in its wake when it comes to Facebook likes.
The Daily Mirror has 67,000 likes and the Daily Mail has 28,158, while The Guardian has 411,191 likes. However, The Guardian has additional Facebook sub-brand pages.
News International's newspaper The Times has just 36,523 fans, but Vanneck-Smith added that Facebook was not part of The Times title's strategy.
The Sun's one million Facebook fans, however, are made up of multiple Sun sub-brands and not just the overall Sun brand.
A breakdown of the Facebook likes reveals The Sun has 567,577 fans; Sun Football (194,092); Fabulous magazine (126,115); Dream Team (69,271); TV Magazine(17,000); Page 3 (15,814); Sun Football Legends (6,009); Sun Employment (4,053); Sun Bingo (1,606), and Dear Deidre ( 881).
Follow John Reynolds on Twitter @johnreynolds10