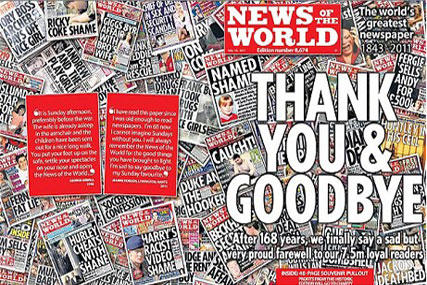 The Sunday tabloid market , which survives on the oxygen of scoops, has been somewhat muzzled since the closure of the News of the World last year, as executives have shied away from running the big "kiss-and-tell" stories because of the Leveson enquiry and privacy issues sparked by the Max Mosley case.
Circulations across the Sunday national market have been falling rapidly, as have advertising volumes.
Advertising expenditure across national newspapers in January 2011 – stripping out the News of the World – was £26.5m, according to Nielsen. In 2012, it was £17.1m.
Media Week spoke to media agency executives and rival newspaper groups to get their take on the launch of the Sun on Sunday.
One executive from Mirror Newspapers – publisher of the Daily Mirror and Sunday Mirror – said the launch would put fear in the hearts of rival tabloids, likening the impending battle between the Sunday Mirror and the Sun on Sunday as "David against Goliath".
What seems clear is that Murdoch's News International will support the launch with a marketing campaign that will spare no expense in trying to capture its 2.6 million lost News of the World readers.
Alan Brydon, head of investment at MPG Media Contacts, said: "My first thought is that if Mr Murdoch wanted to send all his competitors at Associated (publisher of The Mail on Sunday), and Mirror Group Newspapers (publisher of the Sunday Mirror) into a massive panic, and to lead them into spending millions of pounds and many senior man-hours on planning defensive marketing, promotional, and other activity, this one-line comment would be a fantastic way of doing so."
But Brydon argued that the new newspaper would not replicate the News of the World circulation and readership.
He added: "To be blunt, the world kept spinning when it closed down, and people have realised that their lives can go on without it. And however good a Sun on Sunday is, it won't be the NotW. Advertisers also have survived relatively happily without it and, actually, the closure has perhaps 'forced' some companies to realise that there are other ways – digital, outdoor, etc – to skin any particular media deployment cat."
Liam Mullins, head of press at the7stars, welcomed the move by Murdoch, and argued that consumers would welcome the title with open arms.
He said: "There has been a huge gap from a customer perspective over the last few months and it was distinctly News of the Screws-shaped. No Sunday paper has managed to hold on to those big initial reader gains, as seen over subsequent ABC periods.
"I don't feel any other title offers the quality celeb gossip or salacious firsts that the Screws did.
"Advertisers need to be where the readers are and therefore, will be supportive of the launch, as it has the potential to do massive numbers. As long as Murdoch and the rest of News International manage it right, it could be a big success."
Follow John Reynolds on Twitter @johnreynolds10
Read more on Brand Republic
In email to staff Murdoch tells staff Sun on Sunday will launch soon and how recent arrest of Sun journalists "pains" him.