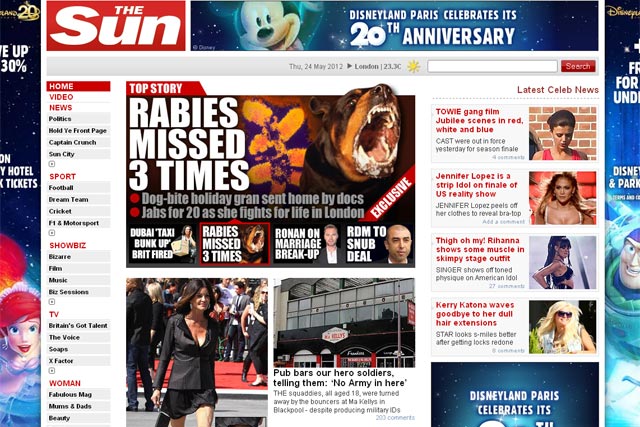 The tabloid site was typically attracting around 1.45 million average daily browsers in the months before the arrival of the extra edition of the paper on 26 February.
It hit a high of 1.56 million that month before dropping back to 1.49 million in March.
April's figures show the big two of the online newspaper sector, MailOnline and Guardian.co.uk, once again outgunning the competition.
MailOnline's daily average browsers jumped 4.4% from March to 5.65 million and Guardian.co.uk's figure increased 4.2% to 3.88 million.
They pushed ahead of Telegraph.co.uk, which dropped 3% to 2.34 million.
Among the smaller players Mirror Group Digital piled back on the audience after a couple of bad months following the relaunch of the Daily Mirror site in February.
Its daily average browsers surged 13.2% from March to 660,672, which is still down 25% from its January figure of 882,972 (its highest to date).
Independent.co.uk managed to stay just ahead after an 8% boost on March to 695,992.
Its Evening Standard stablemate, Standard.co.uk, is down to just 110,611 after an 8.2% month-on-month fall, its lowest figure since 2009.
ABC multi-platform report
April 2012
Daily change (%)
Daily avg.
Monthly total
Mth/mth
Yr/yr
MailOnline
5,653,577
90,309,252
4.42
57.22
Metro
335,390
8,049,098
2.32
n/a
Standard.co.uk
110,611
2,518,207
-8.23
n/a
guardian.co.uk
3,876,212
N/A
4.17
61.02
The Independent
695,992
15,043,267
8.02
18.76
Mirror Group Digital
660,672
13,682,364
13.17
4.69
The Sun
1,530,704
25,070,209
2.82
n/a
Telegraph
2,343,120
44,892,746
-3.04
21.24