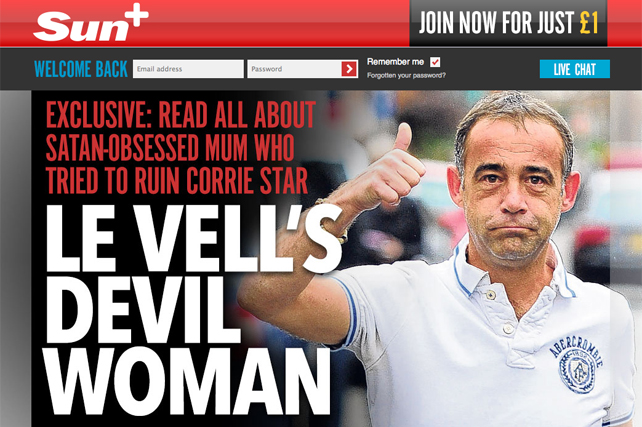 SimilarWeb bases its figures, which do not include traffic from mobile devices, on the web activity of a large panel of users (tens of millions), which it extrapolates to represent the entire internet population.
According to its estimate, the number of visitors to Thesun.co.uk fell 61.4 per cent from 37.3 million in July – the last month before the paywall went up – to 14.4 million in August.
The Sun's paywall went up on 1 August, backed by a big above-the-line campaign, and although the full price is £2 a month, the tabloid offered an introductory price of £1 for two months to readers who registered in advance.
Daniel Buchuk, the head of brand & strategy at SimilarWeb, said this represented a much sharper decline compared with other sites that have introduced paywalls.
He said: "The amount of visits to The Sun's website halved a month after rolling out the paywall. Other online newspapers such as The Telegraph or The Washington Post had a much softer transition by giving readers limited access to content.
"It would be interesting to see how many subscriptions they have sold as they have sacrificed an enormous amount of web traffic and therefore potential online advertising revenue."
However, Telegraph Media Group and The Washington Post both have metered access to their paywalls and allow readers up to 20 articles a month for free. In contrast, only subscribers can read The Sun content online.
Average page views and average time on site also showed declines, with average page views in August falling to 1.83 (July: 2.77) and average time on site dropping to under two minutes (one minutes 59 seconds) versus four minutes 42 seconds in July.
At the same time the bounce rate – the percentage of visitors who only visit one page before leaving the site – increased from 47.5 per cent in July to 68.9 per cent in August, which Buchuk attributed to the decision not to allow non-subscribers access to a limited number of free articles per month.
Buchuk said: "The lack of content shown to visitors without a subscription has increased the 'bounce rate' drastically. This [together with] the sharp drop in web traffic to The Sun's website could have wider implications in terms of traffic from search engines which might start to categorize their site as 'less relevant'."
Last month industry sources suggested The Sun had already attracted more than 340,000 subscribers, the threshold figure Enders Analysis believes News UK would need to cover its outlays and advertising losses
A spokesman for News UK declined to comment.