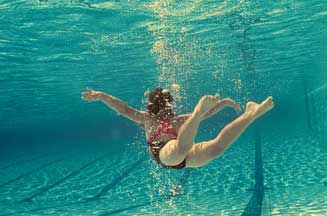 The campaign, by The Red Brick Road, aims to remind swimmers of the fun of swimming underwater.
The ads, which were filmed underwater, show a young girl wearing goggles swimming underwater in a pool. When she emerges from the pool she has become a young woman.
She later dives back into the pool and becomes a young girl again. The film ends with the tagline, 'Swim with your eyes open'.
Last Christmas, the swimwear brand signed a deal to sponsor the Outdoor Swimming Society.
Zoggs was founded in Australia in 1992 and makes items such as goggles, swimming costumes and caps. It aims to become the top global brand for recreational swimmers.
Mark Hammersley, chief executive at Zoggs, said "People's reluctance to wear goggles usually stems from a bad experience when they were younger.'
However, he added that goggle technology has moved on. 'We want to educate people that by wearing a pair of Zoggs goggles, they will enhance their swimming experience,' he said.
Justin Tindall, creative partner at The Red Brick Road, said: With this campaign we wanted to reconnect people with the uniquely magical experience that comes with swimming underwater.'